Vietnam Travel Tips: 10 Local Snacks to Keep You Warm and Toasty During Winter in Hanoi
The go-to resource for choosing your dream culinary vacation. Find all you need to know about the top destinations and ways to elevate your cooking skills & knowledge.
Discover Culinary Vacations now
Considering that Vietnam is located in South East Asia, you may think that there is no such thing as winter here. Well, there is definitely such a thing! In fact, in Hanoi, temperatures may even drop to below 10 degrees between late December to late February!
That said, no need to worry as there's plenty of local 'junk food' (many of which are actually pretty nutritious and healthy) you can munch on during a winter afternoon in Hanoi that not only will drive away the chills but also help you to step closer to living the Hanoians' way of life.
When you're on a culinary vacation in Hanoi, you are bound to see a lot of street food stalls and shops which offer a variety of very affordable treats with eye-catching colors, tastes, and (appealing) smells. Even with only VND 100,000 (about US$ 5) on hand, you can sample the following yummy Vietnamese snacks:
1. Rib porridge
This comforting dish essentially consists of only plain grated rice flour cooked with ribs. Sold at just about every street in Hanoi, we recommend to eat it right at the stalls. Sitting on the plastic chairs while you eat and take in the views of people going about their day, will take you a step closer to living like the locals. Speaking of which, the Vietnamese often enjoy their rib porridge with a cruller( a snack that is also found on this list).
A bowl of rib porridge will set you back around VND 20,000 (US$ 1). That said, note that the price depends on where you opt to eat. Though this dish can easily be found sold by street hawkers, you can also find gourmet versions of it in the menus of high-end restaurants.
2. Pyramid rice dumpling
This dumpling 'cake' is a great choice for breakfast. It is made of simple ingredients; mainly from rice flour, chopped meat, onion, and mushroom. Packed with nutrients, it is shaped like a tip and is wrapped in banana leaves. To start enjoying this delicacy, just use scissors to cut the banana leaf wrapping. It is usually served and enjoyed with chopped cereal, spring rolls, and never without a pickle.
This cake will cost you about VND 10,000 (50 cents) each. So with your budget, you can eat up to 10! Note that though it's practically sold all around Hanoi, the most popular ones include Kim Lien, Thuy Khue, Nguyen Cong Tru market, Hom Market, Dong Xuan market.
3. Fried sticky rice
Fried golden egg with a side of 'crispy' is a favorite amongst the locals. The sticky rice is fried until the outside layer becomes crispy but not too long so that the inside layer remains soft. You also have the options of adding this dish with sprouts, sausages, spring rolls, etc or even add gravy for a bit of a 'kick'. The Vietnamese also often eat this dish with a pickle.
Head on over to Hoang Dieu street and Thuy Khue street to find a vast variety of this dish. A serving of 'basic' fried sticky rice costs about VND 25,000 (US$ 1.25)while the loaded version will cost you around VND 50,000 (US$ 2.5).
4. Cruller
Made from dough with a cut made in the middle that allows it to be pulled over, this delicious pastry has decoration twists on its sides.
In comparison to noodles or pastries found in many other Asian cuisines, crullers are more fragrant, thicker and more flexible and usually combined with a fish (kohlrabi) dipping sauce with shredded carrots soaked in it. These crispy treats are also a yummy side dish served along with many noodle dishes in Hanoi such as beef rice noodle and chicken rice noodle.
Try these treats at stalls or shops along Nguyen Khang Street or Nguyen Luong Bang Street, for about VND 5,000 (25 cents) each.
5. Girdle cake
Originally from the Southern part of Vietnam, this snack has become a staple among Hanoians. It contains chopped rice mixed with dried beef, mango fiber, quail eggs, onions, and shrimp. It's a treat to our palate as it combines sour, spicy, salty, and sweet flavors together. You can purchase a batch of girdle cakes for only VND 20,000 (US$ 1).
Want to taste it for yourself? Find them in shops along Hang Tre street, Hang Trong street, Ly Quoc Su street, or Hoang Cau street.
6. Banh duc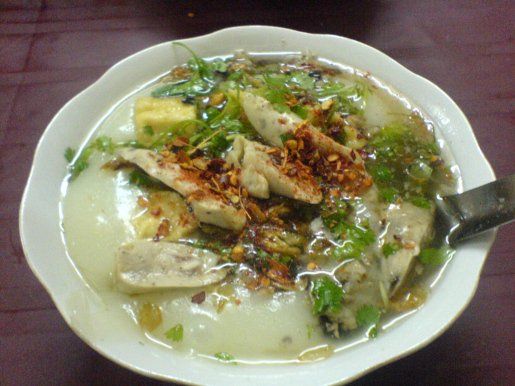 Banh duc is made from either non-glutinous rice flour or corn flour and is one of the most sought-after dishes during the winter season in Hanoi. Its color is white and it has a soft texture and a mild flavor. It is normally enjoyed with savory condiments such as ground pork,chấy (grilled ground shrimp), sesame seeds, fried onions, salt, peanuts, lime juice, soy sauce, or fish sauce. Banh duc can be enjoyed when it is cool with soy sauce or sometimes, it may also be served hot with some slices of steamed meat or mushrooms.
Priced at VND 15,000 (75 cents), they are sold at small stalls and available throughout the day. Le Ngoc Han street is the go-to street if you're looking for the tastiest Banh duc in Hanoi.
7. Hot sweet gruel
Cooked and served hot with a bit of coconut oil, this simple yet comforting dish is made from green beans and black beans. With only VND 17,000 (80 cents) on hand, you can enjoy a dish that is not just delicious but healthy too!
8. Grilled chestnuts
Grilled chestnuts are not the specialty of Hanoi but they are sold on many streets in Hanoi particularly when it's cold. Though it is named 'grilled chestnuts' they are roasted - not grilled. Some places also add honey to create a unique and vibrant taste. A pack will cost you around VND 10,000 (50 cents).
9. Baked corns and potatoes
Though they are not typically packaged together, stalls that sell baked corns usually sells baked potatoes and vice versa. Baked on a charcoal 'stove', they are very fragrant and appealing to be eaten when it's cold outside. Baked corn or potato is priced at starting VND 7,000 (35 cents).
10. Drifting cake
Priced at a range of VND 10,000 - 15,000 per bowl, this cake with an unusual name attracts hoards of hungry Hanoians in the winter. Made from sugar, ginger, green peas and coconut wrapped in soft slices of flour, this dish is quite aromatic and of course, delicious.
Final Thoughts
Now that I've shared with you a delectable list of Vietnamese snacks, how many of have caught your eyes? Curious as to how they actually taste? Perhaps it's time to head over to Hanoi or other cities in Vietnam for a food tour and dig into plenty of these scrumptious street foods firsthand!
---
A fan of Vietnamese cuisine? There's no better way to deepen your love for this tantalizing cuisine than to learn how to whip up its mouthwatering dishes on a culinary vacation! Check out a vast selection to choose from at BookCulinaryVacations.com.