3 Delicious Vegan Summer Recipes
The go-to resource for choosing your dream culinary vacation. Find all you need to know about the top destinations and ways to elevate your cooking skills & knowledge.
Discover Culinary Vacations now
Summer has finally arrived, and along with it, all the things that I've missed so much in my diet! Fresh fruit, such as cherries and strawberries, and yummy veggies, like asparagus and green onions and many more.
Spring and the beginning of summer are always so inspiring for me when it comes to cooking up something delicious. In the winter, I always crave thick soups, beans, and stews, but come summer, my body welcomes fresh produce.
If you are ready for all the vegan goodness that summer brings along with it, I have three delicious vegan recipes that I've personally tested and that will surely rock your summer world!
A Delicious and Green Vegan Spring/Summer Risotto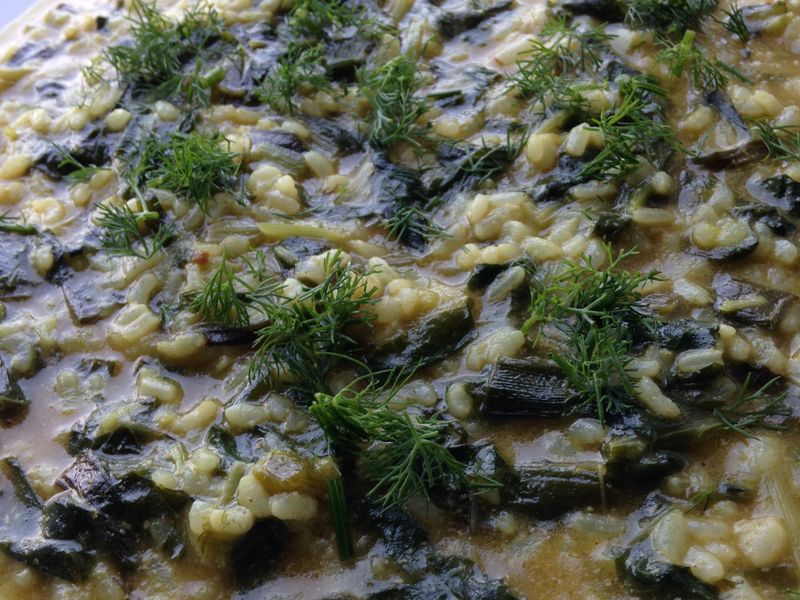 This vegan spring risotto has brought me so much joy, as it is truly astounding. It was so amazing that I actually thought to myself that I was tasting heaven. I went to my parents' garden and picked up some spring onion and spinach, and I just sensed that tonight was going to be a risotto night. The best kind of night!
Ingredients:
80 grams risotto rice
6 medium to large spring onions
Thee handfuls of fresh spinach
Half a teaspoon of good curry
Three tablespoons nutritional yeast
Fresh dill or parsley for garnish
Olive oil
Salt
White Pepper
Before we begin, I know, I know. Curry with risotto? Where is the vermouth? To be honest, I just made this to exactly my liking and it's good. So, if anyone's offended with me calling this a risotto, let's not call it risotto.
To make this divine dish, you will need to chop the spring onion and sauté in enough oil until it is soft. Add the washed but uncooked rice, salt and pepper and stir well. When the oil has penetrated the rice and it is translucent, add the water. I added two large glasses and then, when it was almost done, I added a half more. Just take it slowly and observe the risotto. Don't leave its side, or you'll get into trouble!
When the rice is almost done, add the chopped fresh spinach and let it cook for a little longer. When the spinach is cooked and wilted, add the curry, nutritional yeast and stir. Keep stirring for one more minute and add dill or parsley if you like. Not too much, it will overpower the whole thing. That's it!
If you would like to add some dry vermouth, feel free to add it at the beginning of the cooking process and allow for the alcohol to evaporate.
Fresh Pasta with Homemade Tomato Sauce
I made my own pasta. What accomplishment could be more satisfying than that? Maybe a child? I don't know, maybe! My vegan fresh pasta came out perfect: texture and taste. It is lacking just a tiny but in the visuals department, but hey, for a first time, it's fine!
Following this experience, I did learn one thing: that I need and want a pasta machine. My doughy arms cannot work the dough, how ironic! It is such hard work! The moment my arms started failing me I just knew that I would give up and eat thick pasta, instead of the nice and slim fettuccine.
For the pasta:
130 grams all-purpose flour
167 grams semolina
120 ml water
Teaspoon of salt
Extra flour for dusting
For the tomato sauce (my classic and simple recipe):
1 kg of fresh tomatoes
1 teaspoon of dried basil
1 handful of fresh basil
One large onion
Two or three cloves of garlic
Salt and pepper to taste (tomatoes eat up a lot of salt, so be careful)
Olive oil
For the pasta, you will need to combine the flour, semolina, salt and water, and mix until you get a nice dough. The proportions above are perfect, I didn't need to add anything more, not even a splash of water. I kneaded the dough well, put it in a ziplock bag, and I let it rest for half an hour.
Then I kneaded it some more (I must admit kneading is not my forte), started stretching it out with my roller until I got the sheet of dough (which is actually called sfogliai) as thin as I could, I rolled it up and cut it. After I cut it, I hung it up to dry for 30 minutes. Then, I just cooked the pasta for two minutes in salted boiling water.
For the tomato sauce, man, this is perfection for me! It may be too simple for some folks, but you need to understand that sometimes simplicity is best! Make this with fresh summer tomatoes and you will get spectacular results. If you don't have any, canned is fine, just fine.
So, chop the onion and sauté it in olive oil. Add the smashed garlic, salt, pepper, sauté a bit more, then add the fresh (or canned) tomatoes and dried basil, a tiny bit of water (around 30 ml) and let it simmer for 15 minutes until the whole thing reduces to a thick sauce. My trick is that I add half of the dried basil at the beginning and the other half 5 minutes before the sauce is done. Only then do I add the fresh basil, just seconds before I turn the heat off. It really makes a difference and adds dimension to the sauce.
Don't try to make this recipe without semolina, it will taste like bread and you will bring shame to the name of PASTA. Enjoy one of the loveliest dishes in the world!
Fresh and Yummy Couscous Salad
Up until this recipe, I had never been a couscous specialist. I'm not saying that I am one now, but I do admit that this is quite amazing, and I feel pretty great for being able to whip this up. I found this recipe on Jamie Oliver's Food Tube. In the video, lovely Kerryann Dunlop made this couscous Turkish salad, and it looked so easy and delicious that I thought I would give it a try.
Good heavens! I am so happy I did! This salad is so, so good, I want to marry it and have its babies. I didn't add fresh coriander, just because I didn't have any. But I did add an avocado, because I love avocados, and if it were up to me I would add avocado to pretty much everything! Don't get discouraged if you don't have all the ingredients, just remix the recipe to your liking. Go ahead, do give this salad a try, it is stunning!
---
Ready to create and indulge in something utterly delicious? Or maybe you feel as if your cooking skills are a bit rusty and you need some cooking lessons? Then book yourself a spot on a cooking holiday and get better at creating delicious dishes!