Best Spring Destinations for Culinary Vacations
The go-to resource for choosing your dream culinary vacation. Find all you need to know about the top destinations and ways to elevate your cooking skills & knowledge.
Discover Culinary Vacations now
The snow is melting, the flowers are starting to bloom, and the farmer markets are bursting with fresh produce.
Spring is around the corner and the buzz of the new season gets all of us excited!
The fresh air is perfect for exploring new destinations and there's simply no better way to kick off this delightful season than with a culinary vacation!
Not sure where you should be to heading to? Fret not as we have put together a list of some of our top spring culinary destinations you should consider!
Note: BookCulinaryVacations offers a flexible cancellation policy. Should you not be able to travel as scheduled, we'd be happy to help you alter your booking with the same organizer or a different organizer.
Oaxaca, Mexico
Photo credit: Thelmadatter
Oaxaca stands proudly on top of many spring bucket list destinations.
Both the city and the region are famous for the local food, as well as artisan goods.
Known for mole, mezcal (similar to tequila), coffee, chocolate, and great outdoor settings, this Mexican state will provide a lot of exciting things to do.
You'll likely be enjoying a lot of chocolate here but make sure to leave some room in your stomach for the Tlayuda, a Mexican "pizza" that has a crispy tortilla as a base, topped with mole, meat, cheese, and salad.
Boasting 70 miles of coastline and sunny-weather year-round, San Diego is an exciting destination to visit during spring.
And while you might be spending most of your time enjoying the beach, don't forget to sample some of the local fares, too. Mexican cuisine is at its best here. But you'd be equally impressed by the great coffee served at Italian cafes.
From carne asada fries, California burritos, fish tacos, fried chicken sandwiches to acai bowls, and avocado toast, you'll surely find something to tickle your taste buds.
Photo credit: Flickr
Looking for the perfect escape from the cold weather? Head to St. Thomas or any of the three islands and enjoy the tasty food. April is a great choice for traveling here as the high season is over leaving room for affordable hotel and airfare.
The local dishes include pate (which is meat wrapped and deep-fried in the dough), johnnycake (deep-fried dough), as well as peas and rice.
Photo credit: Riad Les Ammonites
April is a great month to visit Morocco. The temperatures are balmy, making it a pleasure to explore bustling markets and cities.
Aromatic and spicy, Moroccan cuisine offers intriguing flavor combinations by making use of a lot of spices. Tagine – a stew cooked in a clay pot – and cous-cous are already widely known across the world.
But while in Morocco, make sure to try harira (a tomato-based soup featuring lentils and chickpeas), mechoui (roasted lamb), and zalouk (a spread typically made with eggplant, tomato, garlic, olive oil, and spices). Wash everything down with some mint tea!
Photo credit: Porto Club Travel Services
Spring is one of the best times to visit Greece's capital, Athens. The days are warm, mostly sunny but windy, and there are fewer tourists this time of year.
The tavernas are plentiful but try to avoid those that offer a menu in English – as they tend to be less authentic. Try the mezedes (appetizers), such as dolmades (stuffed grape leaves), tzatziki (yogurt and cucumber dip) or saganaki (grilled cheese),and be sure to not miss out on the national dish of moussaka (eggplant and beef casserole). End the meal with baklava (crushed nuts and honey in phyllo dough).
Should be looking for vegan alternatives, you are in luck! There are plenty of traditional dishes that are not based on animal products. And you can find even more if you visit Greece during Easter Lent.
»Read more: Why You Should Go on a Culinary Vacation in Greece
Photo credit: Wine Tour Amalfi Coast
As one of the Mediterranean countries, Italy is a charming destination for a spring culinary vacation.
But if you are looking for an extraordinary experience, Amalfi Coast should be your choice. The bright green terraces, dotted with colorful flowers, balmy weather, charming cities, and not a lot of visitors (yet).
Seafood is a big part of the cuisine here. Alici de Cetara (anchovies, a typical starer), gli scialatielli All'Amalfitana (pasta dish featuring calamari, mussels, shrimps, and clams) , and risotto ai frutti de mare (rice with seafood) should not be missed.
But you'll also find delicious cheeses, such as Mozzarella di Bufala, a protected trademark that designates mozzarella made from water buffalo milk. And don't forget to indulge in Pizza Napolitana.
And if you've always wanted to try Limoncello, this area is where you'd find the best lemons and, as a result, the best limoncello, too!
»Read more: Why You Should Go on a Culinary Vacation in Italy
Paris, France
Photo credit: Le Calabash
Soak up the city vibes as the weather warms up and enjoy coffee and croissant in the cozy street cafes!
As spring starts, the local markets come back to life, buzzing with fresh produce: asparagus, artichokes, rhubarb, and strawberries line up the stalls. Every neighborhood has its own markets, but some of the most charming (and best for produce) are Marché Bastille, Marché Mouffetard, and Marché des Enfants Rouges.
We suggest skipping the tourist ridden international restaurants and indulge in the local staples instead. Here are some of our favorites: soupe à l'oignon gratinée (French onion soup), confit de canard (duck confit), coquilles St-Jacques (scallops), macarons, or pain au chocolat (chocolate croissants).
»Read more: A List of Foods You Must Try During Your Trip to France
Budapest, Hungary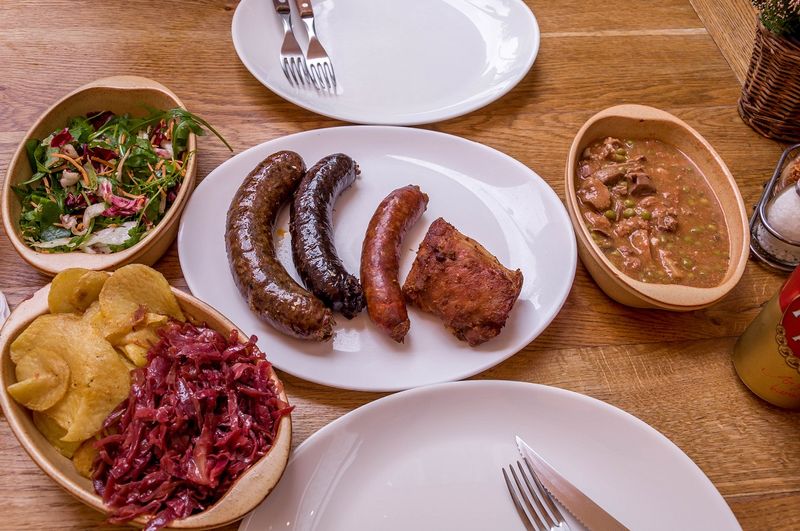 Photo credit: Katica Guesthouse Aggtelek
Did you know that spring is one of the best times to visit Hungary's capital? The weather is getting warmer, the beautiful flowers and lush trees come to life, and it is always a pleasure to explore the off-the-beaten places.
You should know that Hungarian cuisine is hearty and based on meat. As it is located on the Danube, fresh fish dishes are also available. Don't forget to try goulash (a hearty stew made from various meats) or chicken paprikas with homemade noodles. End the meal with palacsinta (crepes) or bejgli (poppy seed roll).
Bali, Indonesia
Photo credit: Traveling Spoon
Since the "island of Gods" enjoys two distinct seasons, as opposed to the four we are used to in the Northern Hemisphere, there's no such thing as spring in Bali.
Here, spring falls at the start of the dry season when there's plenty of sun, warm weather, and not much rain. It's an ideal time to go hiking, enjoy the beach, and have fun in the water.
Based on rice, vegetables, fish, and meat, the flavorful Indonesian cuisine has Chinese and Indian influences. Be sure to try the babi guling (suckling pig) or bebek betutu (slow-roasted duck).
---
Unable to travel right now? Discover the world's greatest cuisines and learn how to whip up delicious dishes during an online cooking course.