5 Easy-to-Make Summer Party Appetizers
The go-to resource for choosing your dream culinary vacation. Find all you need to know about the top destinations and ways to elevate your cooking skills & knowledge.
Discover Culinary Vacations now
Are you looking forward to the rocking summer ahead? What's your idea of pleasing your taste buds during summer parties with your near and dear ones?
Summer is the time of year when you are most likely to hang around with your friends and family. It's when picnics, barbecues, and tailgate parties are the order of the day.
When it comes to having a good time with your family and friends, it is important to make sure your guests have snacks and beverages already available at the beginning of your gathering. Start by welcoming your guests with a friendly toast using attractive custom beer labels wrapped around bottles. Then, you can never go wrong with offering them some irresistible appetizers.
Whether it's a lover of gourmet cuisine, seafood, or vegan gastronomy, we have some scrumptious summer appetizer ideas that are guaranteed crowd-pullers on any given occasion:
1. Tomato Pesto Bites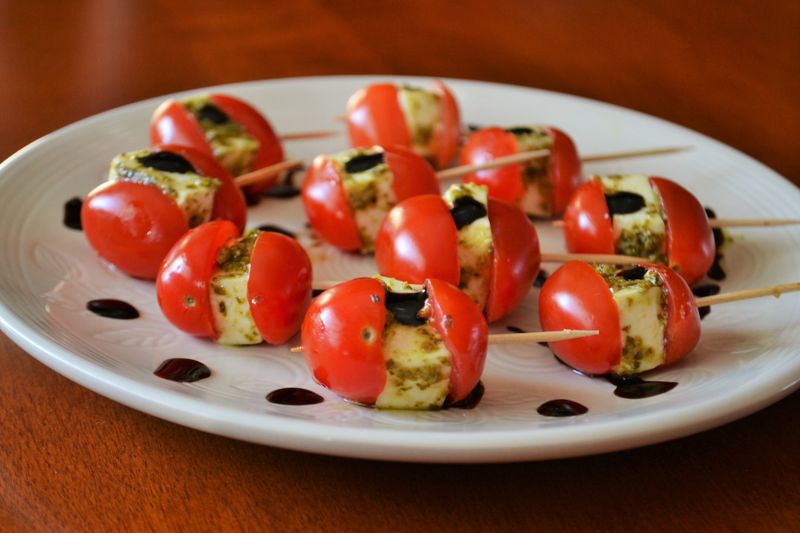 Photo credit: jerseygirlcooks.com
Whether you are throwing an intimate gathering or just looking toward hosting a friend-reunion party, this delicious summer appetizer is sure to kick-off your evening on a right note. Tomato pesto bites is a delicious and easy-to-prepare Mediterranean-style appetizer made from only six ingredients. You are free to add some more as per your liking.
To begin with, pastry puffs are cut into bite-size pieces that serve as the base, while fresh tomato slices act as a juicy foil. Then, sprinkle a few pieces of olives along with mozzarella cheese. After adding a drizzle of olive oil, place the bites inside a heated oven. Baking helps mix the flavors while giving the bites a crispy texture.
2. Grilled Shrimp Bruschetta
Photo credit: pillsbury.com
You can find many variants of this traditional Italian antipasto. However, bruschetta with grilled shrimp is one of the most delectable ones, giving it a delicious twist can make it a perfect summer appetizer. This quick and easy snack is topped with a shrimp and tomato mixture, which gives it a distinctive taste and texture. The shrimps are added together with chopped plum tomatoes, garlic, feta cheese, lemon juice, and a dash of Greek seasoning. You have to make sure the shrimps are smaller in size so that they don't overpower the other ingredients.
3. Feta and Egg Stuffed Peppers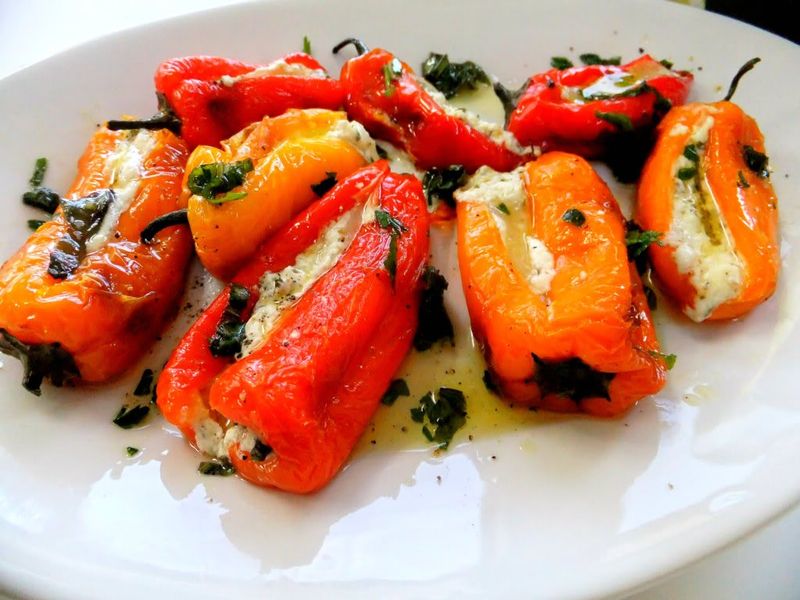 This is one of those rare dishes that require just three simple basic ingredients and take only 15 minutes to prepare. Feta and egg-stuffed peppers give you a crunchy and sweet taste on the outside, with a salty and succulent filling. As we already know, peppers are great for salads, soups, and stews, but they act as an awesome appetizer as well, and this flavorful and bite-sized vegetable makes a great addition to any summer party.
These feta and egg-stuffed peppers are filled with a mixture of egg, feta, and a simple seasoning of pepper, garlic powder, paprika, and parsley. Sprinkled with some feta cheese on the top and then baked in an oven, the dish is ready to gorge on.
4. Smoked Salmon Appetizer Bites
This is among those dishes that can lighten up any party simply because they are crowned pleasures. It tops all manner of party fare, from toasts and crackers to classic blini and galettes, with supreme aplomb. It is fast to make in large numbers, looks gorgeous, tastes fabulous, and is served at room temperature.
If you are planning your reunion party in a far-off location, the first thing that comes to mind is logistics. It's really a cumbersome exercise to transport a sizeable chunk of party food from one location to another. This smoked salmon appetizer, on the other hand, removes a great deal of party food logistical challenges. It is the perfect light start to a dinner and a hit at any party. And don't you worry, assembling them is much easier than it looks. Your friends will just love you for such a dish.
5. Avocado and Shrimp Crostini
Photo credit: saltandlavender.com
Now, this dish will probably be a show-stealer for the party you are going to host. This easy appetizer is a combination of insanely great flavor, texture, and presentation, which will be a smash hit right away. This appetizer is really quick to whip up, which makes it a great option when you have not had time to prepare. Crunchy bread, mashed avocado, and lightly seasoned shrimp. That's all you need. Feel free to add chili sauce and fresh cilantro for a dazzling effect, as the contrasting flavors will make a nice match for the shrimp. It requires minimal cooking time and tastes awesome, which makes it a clear winner.
Final Thoughts
No matter which recipe you decide to use on the party day and no matter what food you decide to surprise your guests with, it's the engagement, excitement, and fellowship of the get-together that provides a distinct feel. It's time to try the above-mentioned appetizers and enjoy your great summer parties ahead. Bon appétit!!
---
Never cease to impress your guests. Go on a cooking holiday and learn to prepare food that will become the life and soul of the party!