Sizzling Hot Summer Culinary Destinations
The go-to resource for choosing your dream culinary vacation. Find all you need to know about the top destinations and ways to elevate your cooking skills & knowledge.
Discover Culinary Vacations now
Think of summer and, no doubt, endless sunny days, azure waters, sandy beaches, and outdoor meals will come to your mind.
For the Northern Hemisphere, summer also means the peak of the travel season. Activities abound and, among them, scrumptious culinary vacations are an excellent way to get to know new cultures, try new foods, and learn cooking techniques.
Ready to plan your sizzling and tasty culinary trip this summer? Read on and discover delicious destinations, their traditional dishes, and what to expect in terms of weather & entry requirements.
Note: BookCulinaryVacations offers a flexible cancellation policy. Should you not be able to travel as scheduled, we'd be happy to help you alter your booking with the same organizer or a different organizer.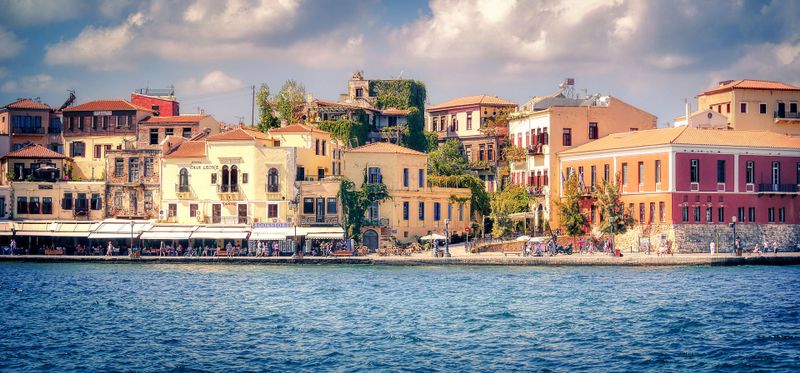 The largest and most populous of the Greek islands, Crete is not only blessed with sun, sea, and sand, but has one of the oldest gastronomic traditions in the world.
While the cuisine of Greece has similarities across the regions, the Cretan diet is known to be one of the healthiest in the world, featuring fresh & healthy ingredients. It's simple, yet so flavorful.
Home to more than 1.5 million olive trees, it's no wonder that, on average, locals use 25 liters of olive oil per person, each year. By comparison, in the US, it's about 0.5 liters/person.
Without a doubt, the staple of the Greek cuisine, the traditional Greek salad, has its own twist here, often using local, soft cheeses instead of feta.
Featuring tomatoes, barley rusks, and goat's cheese, Dakos is a local staple. Olive oil, salt, pepper, and oregano are also added to the dish.
Lamb (cooked with local greens), snails (Chochlioi boubouristi), and various pies add another delicious layer to this scrumptious Cretan cuisine.
Wash everything down with a local wine or a refreshing frappe coffee (iced coffee).
Photo credit: Aegean Flavours
Due to its location, summers in Crete last long and start in May. The gorgeous weather lasts well into October. But most of the visitors come in July and August, overlapping with the summer school holiday (in Europe).
Temperatures average in the lower 70s F / mid-20s C from June to August. So, bring your swimsuit and sunscreen.
Traveling to Greece in 2021
All visitors from abroad who have been vaccinated, have antibodies, or have a negative coronavirus test (PCR or antigent) will be allowed into the country starting on May 15. (source)
Greece is also accepting the EU Digital COVID Certificate.
All passengers must complete the Passenger Locator Form (PLF).
»Read more: Why You Should Go on a Culinary Vacation in Greece
Throughout the eras, Tuscany has always been one of the greatest repositories of art in the entire world. Visitors flock here to discover the fine museums in Florence, while others simply look to rejoice in the calmness of the countryside.
And then, there are those who choose this Italian region for the mouth-watering dishes and incredible wines.
The staple Italian appetizer (antipasto), bruschetta here takes a different name: fettunta. The bread is toasted, rubbed with garlic, and drizzled with a lot of olive oil before being topped with tomatoes.
Stale bread gets a makeover in the form of Panzanella. Tomatoes, cucumbers, onions, olive oil, and vinegar are served on top of the bread.
In general, the cuisine features simple, cheap ingredients, which were easy to source by the local farmers. A tasty example is the vegan & gluten-free torta di ceci, made with chickpea flour.
Pasta dishes abound and wild game also makes an appearance even in ragù (the meat-based sauce that goes on top of pasta).
Craving something sweet? Gelato hits the spot no matter when you visit Tuscany!
Photo credit: Francesco Private Cook
Tuscany's climate is generally mild. It's hotter on the coast and colder in the mountains and hills. July & August are the hottest months with temperatures averaging in the mid-70s F/mid-20s C and highs in high 80s/ lower 30s C. June, however, is a great summer month to travel to this Italian region.
Traveling to Italy in 2021
Nationals of the European Economic Area (EEA), Switzerland, as well as some third-party countries (including Israel, UK, USA, and Canada) may enter Italy.
Except for the EEA nationals (that includes the European Union), everyone entering Italy must present a negative COVID-19 antigen or molecular test taken no longer than 72 hours before arrival.
EEA nationals must have either: a negative COVID-19 antigen molecular test taken no longer than 48 hours before arrival, or a COVID-19 recovery certificate, or a COVID-19 vaccination certificate showing that they've been fully vaccinated at least 14 days before arrival. Only the EU-approved vaccines are accepted.
The EU digital green pass is also accepted not only from EU passengers but also for Canada, Japan, and the US travelers.
Passengers who transited through India, Bangladesh, or Sri Lanka in the past 14 days must carry a negative COVID-19 antigen or molecular test taken no longer than 72 hours before arrival. They'll still quarantine for 10 days and need to take two additional tests (upon arrival and at the end of quarantine).
Passengers who transited through Gibraltar or the UK in the past 14 days must show a negative COVID-19 antigen or molecular test taken no longer than 72 hours before arrival. They must self-isolate for 5 days and take another test at the end of quarantine.
Starting from May 24, all passengers wishing to enter Italy, via all means of transportation, are required to complete the digital PLF, prior to entering the country. Passengers arriving in Calabria, Puglia, and Sicily must present a completed health declaration prior to arrival.
More details can be found here (official source).
»Read more: Why You Should Go on a Culinary Vacation in Italy
A region of contrasts, Andalusia is home to charming beaches, glorious mountains, and ancient cities.
Spanning the entire south of Spain, its cuisine is a gorgeous mix of fresh ingredients, Moorish influences, and typical Spanish fare. It might just be one of the tastiest cuisines in Europe.
The star is, without a doubt, gazpacho, the cold tomato soup that delights the taste buds anywhere in Spain. In Andalusia, each restaurant has its own recipe!
With access to a large coast, seafood is present in plenty of dishes: from mojama – the salt-cured, filleted tuna- to las gambas de Huelva – the prawns from Huelva, espetos – skewers of sardines – and the famous seafood paella.
Potatoes and pork meant aren't missing either, and for dessert, you might want to indulge in a hot chocolate!
Photo credit: Just Explore
Due to its varied landscape, the region has three climates. Cooled down by the breeze, Cadiz, on the Atlantic Coast, stays a balmy mid 60-70s F/ mid-20s C from June to September, with July and August being the warmest months. On the Mediterranean coast, Algeciras is slightly cooler, but comfortable in the high-60s F / 20s C.
Inland, Seville sees similar temperatures, but the peak summer months can be toastier.
Traveling to Spain in 2021
Starting on June 7, Spain allows vaccinated travelers from all over the world to enter the country (including EU, UK, and US citizens).
All travelers must complete a Health Control Form (HCF).
Unvaccinated passengers must undergo a diagnostic test to enter Spain (PCR or rapid antigen), within 48 hours before their arrival.
Passengers who have a valid EU Digital COVID Certificate and who add it to the Spanish Health Control Form, will obtain a QR code FAST CONTROL that will facilitate a speedier health control upon arrival.
»Read more details from official resources
Renowned for its wines, Bordeaux is a relaxed city that has an "English flair". It may have been ruled by the British for a long time, but, nevertheless, it is now known as "Little Paris".
And just like anywhere else in France, expect a mouth-watering cuisine. Between the land and the sea, you'll enjoy a variety of traditional French dishes, as well as local staples.
While oysters have been naturally grown here since Roman times, you won't find Cap Ferret oysters in grocery stores. Instead, you need to search for them in restaurants. They are sold by the plate, accompanied by bread and butter.
And did you know that the Bordeaux area is the largest producer of French caviar? Make sure to try caviar de Neuvic while you are here.
The traditional dessert is canelés, a soft pastry on the inside and caramelized to perfection on the outside. The well-known and colorful macaron can also be found here: macarons de Saint-Émilion have only three ingredients.
Wash everything down with wine. The region is famous for its reds (90% of them are made from Merlot and Cabernet Sauvignon).
Bordeaux is blessed with sub-oceanic climate, with some Mediterranean influences. The summers are warm and quite sunny. Average temperatures are a mild mid-60s-70s F / 20s C but do bring that waterproof jacket with you. In July and August, it may rain quite a bit.
Traveling to France in 2021
Effective from June 9, 2021, the movement of travelers between France and foreign countries has resumed under new terms and conditions. The countries have been classified, based on health indicators, as follows: green, amber, and red. The lists may change depending on the global evolution of the pandemic.
There are no restrictions to enter from a green list country, but travelers must present the proof of vaccination and a sworn declaration of their health status or, if not vaccinated, a negative PCR or antigen test taken no longer than 72 hours before departure.
Unvaccinated travelers from amber countries must give a compelling reason to be allowed in the country and must self-isolate for 7 days (followed by a PCR test at the end of the isolation period). Vaccinated travelers face no restrictions. However, all passengers from amber countries must present a negative PCR or antigen test taken no longer than 72 hours before departure, as well as present a sworn declaration of their health status.
Only travelers with a compelling reason to enter France will be allowed if they are from red list countries. All travelers must present a negative PCR or antigen test taken no longer than 48 hours before departure. Unvaccinated travelers must also quarantine for 10 days.
There are no restrictions for traveling within France. However, from early August a health pass is required for long-distance trips by plane, trains, and bus. The health pass is also required to access leisure and culture venues and events (bring together more than 50 people).
The health path must prove you've been vaccinated, or have taken a test, or have recovered from the illness. The EU Digital COVID Certificate is accepted in France.
»Read more details from official resources
»Read more: Why You Should Go on a Culinary Vacation in France
An area just south of the tip of the Yucatan Peninsula in Mexico, Riviera Maya stretches along the Caribbean coastline, offering perfect weather, sandy beaches, crystal clear water, and scrumptious cuisine.
Each state in Mexico reflects its own cultural and natural legacy which are also present in the traditional dishes. The cuisine in Riviera Maya makes no exception and truly showcases its intricate culinary roots.
Most of the food revolves around either seafood or pork.
Ceviche gets a twist here: it's made with sea snail (instead of fish, octopus, or shrimp).
Banana leaves are used to bake a variety of dishes, such as Cochinita Pibil – which comprises shredded pork meat marinated in annatto, cornmeal, and garlic - , and Tikin Xic Fish – fish marinated in annatto, pepper, cloves, cumin, and salt.
One of the most popular snacks is Salbutes, made with a crunchy fried corn tortilla with black beans puree, served with chicken or pork meat, onion, coriander, lettuce, avocado, and spicy habanero chili.
Photo credit: Mexico Lindo Cooking
With gorgeous weather year-round, you only need to factor in two things: the rain and the crowds. May to October is the rainy season. Crowds will be thinner, and a few drops of rain should not put a damper on your fun. Expect mid-90s F / 30s C from May to August.
Traveling to Mexico in 2021
Mexico is open for travel. There's no need to show a negative test or quarantine upon arrival. Travelers, however, must complete a declaration.
Do keep in mind the requirements for your trip back home. For example, travelers going back to the US should show a negative test upon boarding the flight back (or proof that they've had the disease in the past 90 days).
»Read about the COVID-19 restriction and control measures in Mexico here.
»Read more: 7 of the Most Mouthwatering Tacos in Mexico You Simply Can't Miss Out On
Located on the Pacific coast, California is home to a variety of natural attractions, theme parks, and bustling cities. The iconic Golden Gate Bridge, the hills of San Francisco, the beaches of Miami, and the vineyards in Napa Valley are popular with visitors from all over the world.
The Gold State's cuisine can best be described as fusion. Shaped by history and its inhabitants throughout the eras, it combines the Native-Americans' diet, based on fruits, corn, pumpkin, and beans, with the Spanish diet based on peppers and olive oil, baring even influences from China, Italy, and France.
Avocado is present in plenty of dishes, including the famous California pizza – also featuring artichoke, goat cheese, and chicken – and Cobb Salad, which mixes lettuce, egg, tomato, chicken, onion, bacon, and blue cheese.
Burritos and tacos are excellent here, as California has some of the most authentic Mexican foods.
Seafood is also present in the form of a stew – Cioppino – made of squid, Dungeness crab, mussels, clams, and white fish.
Photo credit: Flickr
The state's climate varies from the mild temperatures on the coast to the brutal winters in the mountains. And it's also home to one of the hottest deserts in the world.
From May to August, the temperatures in Los Angeles range from mid-60s F to mid-70s F / around 20s C. Expect little to no precipitation.
Traveling to the USA in 2021
With specific exceptions, travelers from the following countries / areas are not permitted entry in the USA: China, Iran, European Schengen Area, United Kingdom, Republic of Ireland, Brazil, and South Africa.
All travelers who may enter, including US citizens returning from abroad and those transiting through the US, must have a medical certificate with a negative COVID-19 viral antigen, NAAT, RT-LAMP, RT-PCR, or TMA test result. The test must have been taken at most 3 days before departure.
Alternatively, if the passenger has a medical certificate with a positive coronavirus test result issued at most 90 days before departure and has been cleared to travel, they don't need to provide a negative test result.
»Read more from official sources.
Known for being a tropical paradise, Kerala is blessed with sandy beaches, lush vegetation, and outstanding cuisine.
A melting pot of cultures, this Southern Indian state combines the Arabian, Malabari, and French influences into its dishes, alongside its own tradition.
Don't be surprised to find a variety of vegetarian dishes on offer. The lentil & pumpkin stew is a hearty curry loved by locals and travelers alike. The coconut, turmeric, cumin, and other Indian spices blend nicely and are best enjoyed with steamed rice. But curries can also be served with idiyappam (or thin vermicelli). Other curries to enjoy include the curried dahl and the Kerala prawns curry.
The spicy fried chicken (Nadan Kozhi Varuthathu) is also a staple dish. Thanks to its location along the coast, seafood is abundant and fresh. Make sure to try the local fish stew.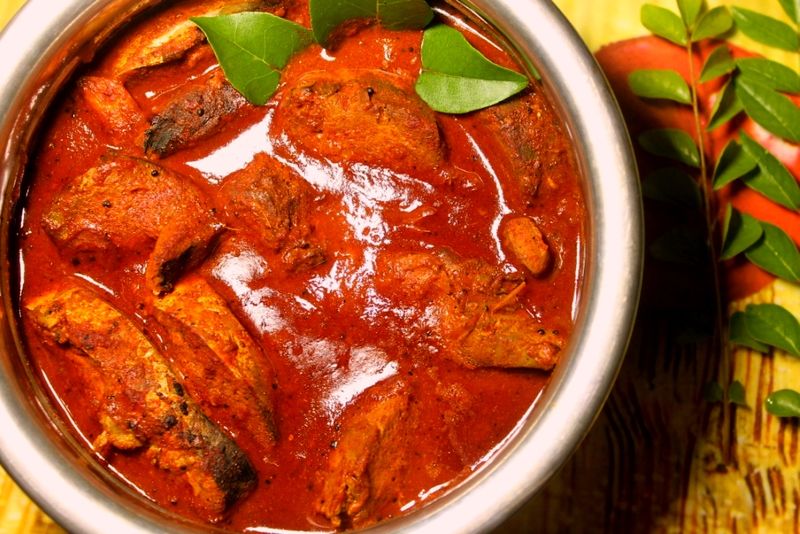 Photo credit: Wikimedia
Being close to the equator, Kerala has a tropical climate. It's one of the wettest areas in the world and experiences rain throughout the year. During the Northern Hemisphere summer, Kerala is right in the middle of the monsoon. But temperatures average around high 60s to high 80s F / mid to high 20s C. Just make sure to always carry an umbrella with you.
Traveling to India in 2021
Due to the surge of Covid-19 cases in India, many countries across the globe have banned flights from India.
Only nationals and residents of India, as well as residents of Nepal and Bhutan, passengers with an Overseas Citizen of India (OCI) card or booklet, passengers with a Persons of Indian Origin (PIO) card, as well as certain visa holders are allowed entry.
Passengers must have a negative PCR test result taken at most 72 hours before departure. In addition, passengers from certain countries, including France, Germany, and the Netherlands, are subject to a molecular test upon arrival (at their own expense).
Passengers from the UK, Brazil, and South Africa are subject to a molecular test upon arrival, as well as on day 7, at their own expense.
»Read more details from official resources
Thailand's capital, Bangkok is a cosmopolite metropolis, dotted with temples, markets, canals, and home to a vibrant nightlife.
The dishes here are just as vibrant as the city itself: spicy, sweet, salty, sour, and colorful. The iconic dish of choice is papaya salad (Som Tum), a tangy combo of shredded green papaya, carrots, tomatoes, fish sauce, chilies, peanuts, and sticky rice.
And speaking of sticky rice, if you have a sweet tooth, you should try mango with sticky rice (Kao Niew Mamuang).
There are a variety of fried noodle dishes to try, too. And you may want to surprise your taste buds with the flavorful hot and sour prawn soup (Tom Yum Goong).
Photo credit: Pink Chili Cooking Class Bangkok
Located close to the equator, Bangkok is one of the hottest cities in the world. There's little to no variation in average temperature throughout the year, around 86 F / 30 C.
Traveling to Thailand in 2021
Travelers from countries or territories exempt from having a visa to travel to Thailand for tourism may enter the country for a period of maximum 45 days. Various documents have to be presented, depending on the country of origin, including the negative results of a PCR-RT test taken no longer than 3 days before departure.
As of July 1, 2021, travelers heading to Phuket will be able to enjoy the whole island without a quarantine period. The program is named the "Phuket Sandbox" and is open to travelers from 63 countries, including the US. Travelers must have been fully vaccinated, present a negative PCR test result (taken no longer than 72 hours before departure), provide proof of at least US$100,000 travel insurance, and have the COE.
Upon entry in Phuket, passengers will take another test, as well as two additional tests during the stay. They must book their accommodation at approved hotels, and also install the Thailand Plus and Morchana apps onto their phones for health and location tracking.
After 14 days, they'll be free to visit the rest of Thailand under the same restrictions that apply to Thai residents.
»Read more from the Tourism Authority of Thailand
The Island of Gods is blessed with a varied landscape of hills, mountains, sandy beaches, lush rice terraces, volcanos, and rugged coastline. A deeply spiritual place and home to a unique culture, no wonder Bali is high on traveler's bucket list.
The Balinese food is just as colorful as the island. Making use of local herbs and spices, it features a lot of exotic dishes, simply perfect for any adventurous taste buds.
Try the abundance of sate (or satay) varieties, which are pieces of various meat marinated in sauces. And you can even find tofu ones!
Babi guling (suckling pig) is relatively hard to find across the archipelago but there is plenty of this on the Hindu island of Bali. The baby pigs are rubbed with spices, such as turmeric, coriander seeds, lemongrass, and garlic and are cooked on a spit. For those who don't eat pork, the alternatives are whole chicken (ayam) or duck (bebek).
You may also want to try nasi goreng (fried rice), one of the most iconic local dishes. The cooked rice is fried with vegetables, pieces of meat, hot chili sauce, and sweet soy sauce.
Photo credit: Traveling Spoon
There's little change in average temperatures during the year, as they are comfortably around 70-90F / 20-30 C. From June to September, the humidity is low, and it can even be cool in the evening. Don't forget to pack that light jacket!
Traveling to Indonesia in 2021
Visitors are not permitted to enter Indonesia, except for travelers permitted under the travel corridor arrangement (TCA) bilateral agreement scheme: United Arab Emirates (UAE), the People's Republic of China, the Republic of Korea, and Singapore and holders of visa and stay permits issued according to the New Normal law, which is implemented since Sep 29, 2020.
All travelers permitted entry need to provide a negative RT-PCR COVID-19 test, taken no longer than 72h prior to departure. Upon arrival, they need to take another test. After 5 days in isolation / quarantine, a new test is required.
Please be advised that due to the COVID-19 pandemic, the Government of the Republic of Indonesia has temporarily suspended visa applications.
Hero photo credit: Oxygen Food Tours
[Last Updated: July 1, 2021]
---
Looking forward to traveling once more? You can do so on a budget! Check out our selection of affordable culinary vacations and choose the one that best fits your needs.