7 Irresistible Matcha Green Tea Recipes to Delight Your Taste Buds
The go-to resource for choosing your dream culinary vacation. Find all you need to know about the top destinations and ways to elevate your cooking skills & knowledge.
Discover Culinary Vacations now
If you are enjoying the health benefits of eating clean and you're also ready to try something new, you've come to the right place! Every day, people like you are discovering fresh and exciting new ways to enjoy Matcha green tea, all thanks to its versatility and ease of use as a healthy ingredient.
Matcha is a 'superfood' loaded with lots of nutrients and antioxidants that your body needs to maintain a clean-eating lifestyle. Best of all? Matcha is amazingly adaptable in the kitchen! Don't be surprised if this silky smooth, earthy powder becomes your new favorite cooking ingredient after you try some of these exciting new recipes, prepared using Aiya's Cooking Grade Matcha. Let's dive in!
1. Vegan Matcha Pancakes with Ginger Plum Compote
Photo credit: The Green Life
Recipe by The Green Life
Perfect for those looking for a healthier, yet still delicious, alternative to traditional pancakes, add a delicious spin to this breakfast favorite by combining ingredients like cinnamon and warm ginger for a slightly spiced kick. These hot, fluffy pancakes are topped with a sweet plum compote that is sure to dazzle your taste buds. Adding Matcha will help keep you feeling energized through the busiest parts of your morning.
2. Three Layer Matcha Cream Chia Pudding
Photo credit: Marie Reginato
Recipe by Marie Reginato
Who doesn't love pudding? This easy-to-make Matcha chia pudding is like no other, packed with enough antioxidants and protein to help you power through the morning. This dish can be prepared and chilled overnight in the fridge, making it an ideal breakfast for busy bees on-the-go. Healthy and oh so delicious, the Matcha adds exceptional flavor to the layers, blending flawlessly together with chia seeds, honey, and coconut milk. You're practically indulging in a dessert for breakfast!
3. Matcha Eggs Benedict
Photo credit: A Couple Cooks
Recipe by A Couple Cooks
Ready for some satisfying, savory goodness? Try this healthy twist on an old-fashioned favorite. This is the Eggs Benedict you've grown to love, with a "healthy hollandaise" sauce made mostly of Greek yogurt, lemon, and a dab of butter – a tart and zesty flavoring that meshes beautifully with the eggs. The Matcha gives it that final unexpected kick while decorating the dish with a vibrant green color. A great breakfast, or even dinner (why not?) to put together on those relaxed weekends.
4. Matcha White Chocolate Mousse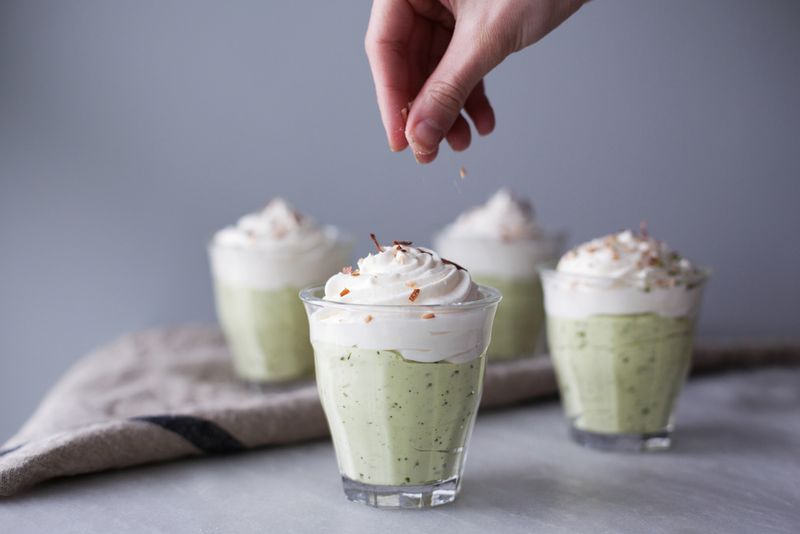 Photo credit: Modest Marce
Recipe by Modest Marce
Glam up those dinner parties with an elegant take on a classic dessert. This mousse is created using a perfect blend of earthy Matcha green tea and sweet delicate white chocolate, and can be decorated with any topping of your choosing! Try a pinch of Matcha powder on the whipping cream for a put-together look, or simply sprinkle coconut flakes or berries for added flavor and sweetness. The white chocolate whipping cream and green hue of the Matcha layer play well together, a surefire way to wow your guests with exquisite taste while keeping the table looking classy and fresh.
5. Almond Butter Matcha Brownies
Photo credit: Probably This
Recipe by Probably This
Finally, chocolate lovers gather! Try this tasty treat when you're looking to satisfy those chocolate cravings, yet want to keep the nutrients in your diet. Created with top-notch ingredients like spirulina, cacao, and almond butter, these brownies are packed with superfoods and topped with a smooth Matcha glaze for a fun and flavorsome finish. A perfect dessert to share a party or event, or with the family on those simple cozy nights.
6. Matcha Latte
Recipe by Aiya America
Speaking of cozy, you'll love warming up to this delicious latte. Made with our Cooking Grade Matcha and Zen Café Blend, this recipe is all about that smooth texture and earthy, mild sweetness. Enjoy this drink with the same freedom you use to enjoy coffee – with dairy or non-dairy, sweetened or unsweetened. Choose the milk of your preference and soak up the amazing nutrients and antioxidants that Matcha has to offer.
7. Matcha Milk Tea with Boba
Photo credit: blogilates.com
Recipe by Modest Marce
We think this is the perfect drink to cool off with during those hot summer months. Enjoy this satisfying blend of texture and flavor, and sip on this refreshingly sweet milk tea made with Matcha and tapioca. Fill the glass with ice and add some boba for a playful and chewy finish.
We hope you will enjoy trying these amazing, well-crafted recipes for yourself! Reap the benefits and high nutritional value from Matcha green tea, and discover new ways to incorporate health into fun flavorsome foods that will spice up your home menu. A little Matcha can go a long way in the kitchen; whether it's a latte, a dessert, or a breakfast food, we hope you discover a new favorite dish!
---
Do you wish to try new and exciting recipes? Go on a cooking holiday to explore the flavors of the world and bring them back home with you!
Family owned since 1888, Aiya Matcha is the world's leading Matcha green tea producer, headquartered deep within the Aichi prefecture in Nishio city, Japan, where the finest Matcha green tea has been grown for over 800 years.