10 Must-Have All American Recipes for an Awesome 4th of July Cookout
The go-to resource for choosing your dream culinary vacation. Find all you need to know about the top destinations and ways to elevate your cooking skills & knowledge.
Discover Culinary Vacations now
For those who celebrate it, the 4th of July, The United States of America's Independence day, is one of the most anticipated holidays of the year. It is a day often spent with family and friends in the great outdoors and of course, one that usually involves an abundance of fireworks and food!
With this in mind, it's always worth to have some inspirations to ensure a celebration that everyone will rave about. This is why, on this post, we've gathered a list of All American recipes food that will help you to plan and host a memorable cookout. The great news is that there's something for everyone! Enjoy and have yourselves a happy 4th!
Firecracker Dog
Image credit: Handmade in the Heartland
According to the National Hot Dog and Sausage Council, Americans purchase 9 billion hot dogs at retail stores each year! But the number of hot dogs eaten yearly is much higher. So, it shouldn't come as a surprise that hot dogs are big stars in the 4th of July cookouts.
To make the firecracker dog you will need breadstick dough, Colby cheese, hot dogs, and skewers. It takes about 20 min to bake them (but depends on your oven).
>> Get the recipe from Handmade in the Heartland.
Chips and Cheese Dip
Image credit: Pizzazzerie
A 4th of July gathering is simply not complete without a hearty dip. And this one is festive, too, as it is paired with blue corn tortilla chips, red pepper strips, and star-shaped tortilla chips. To make the dip you need white cheddar cheese, mayonnaise, cream cheese, onion, and seasoning. It should be cooked in about 30 min.
>> Get the recipe from Pizzazzerie.
Parmesan Garlic Grilled Corn
Image credit: Tara's Multicultural Table
Corn on the cob is an easy yet delicious side dish for any of your summer cookouts and it shouldn't be missing from your 4th of July menu. To make this flavorful version, you need corn, butter, garlic, parmesan, and some parsley. It takes about 15-20 min to bake in the oven.
>> Get the recipe from Tara's Multicultural Table.
BBQ Grilled Chicken
Image credit: Delish
Each year, people across the good ol' US of A consume copious amounts of beef and chicken during 4th of July celebrations. Though it is definitely a long established tradition, with the plethora of sauces available in the market, BBQ sauce is the primary choice when it comes to condiment This recipe combines them both. You are going to need boneless skinless chicken breasts and drumsticks, BBQ sauce, honey, lime, hot sauce, olive oil, salt, and pepper. Note that when grilling leg meat, each side needs about 15-20 min of grilling, whereas the breast only requires 8 min per side.
>>Get the recipe from Delish.
The Ultimate Bacon Cheese Burger
Image credit: Serious Eats
America's favorite food has a history rooted in mystery. But it is known that by the late 1920s-mid 1930s, adding cheese to hamburgers became popular. And while National Cheeseburger Day is celebrated on September 18th, cheeseburgers always make their way into the 4th of July cookouts across the nation.
To make the ultimate bacon cheeseburger you need smoked bacon, mayonnaise, ketchup, mustard, pickle relish, pepper, ground beef, hamburger rolls, cheddar cheese, onion, and pickle chips. Oh, and about an hour of your time.
>> Get the recipe from Serious Eats.
Grilled Salmon Steak Medallions
Image credit: Serious Eats
Seafood rejoice! If you don't particularly like the usual burgers and hotdogs, maybe a salmon steak will tickle your fancy? To make this recipe you need the salmon steaks (be careful to buy the rolled steaks that hold better on the grill), teriyaki sauce, scallions, and lemon wedges. It takes about 2 min to grill on each side, on a pre-heated grill.
>> Get the recipe from Serious Eats.
Sweet Potato Bun Sliders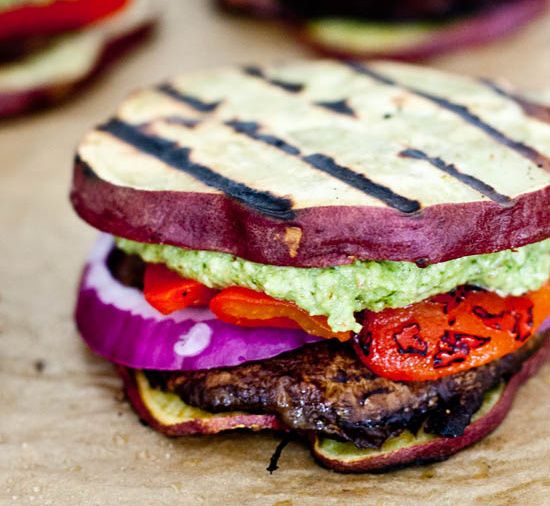 Image credit: Our Four Forks
Hosting some vegan and/or vegetarian friends at your cookout? Delight them with these amazing sweet potato sliders! Even though the recipe sounds complicated, it's actually not that hard to make. For the cashew mayo, you need a food processor in which you need to toss raw cashews (soaked), water, lemon juice, and salt. For the almond pesto, you need the same food processor in which you add roasted almonds, garlic, basil leaves, olive oil, salt, and pepper. As for the sliders, all you need are sweet potatoes, mushrooms, red peppers (roasted), red onion, oil, salt, and pepper.
>> Get the recipe from Our Four Forks.
15 Minute (Vegan) Pasta Salad
Image credit: The Fitchen
Figuring out a side dish that everyone can enjoy can be daunting but don't fret – this simple yet yummy pasta salad is super easy to make! It's also awesome to bring to a picnic. For the dressing, you need olive oil, maple syrup (or honey), balsamic vinegar, mustard, salt, pepper, and red pepper flakes. For the salad, you need 2 cups of pasta (farfalle in this case), garlic, olive oil, asparagus, red onion, grape tomatoes, and kalamata olives.
>>Get the recipe from The Fitchen.
Watermelon, Feta, Blueberry Salad
Image credit: Running in a Skirt
Looking for something refreshing to serve before everyone digs into the BBQ? A popular Greek dish, this watermelon, and feta salad is your best bet. For a 4th of July 'makeover,' why not add some blueberries? You will also need mint leaves and limes. This salad needs to be served immediately after being prepared.
>> Get the recipe from Running in a Skirt.
Berry Coconut Pops
Image credit: Edible Mosaic
The strawberry season ends in June but, if you cannot easily find the fresh version, you can also get frozen ones. You will also need fresh or frozen blueberries, light coconut milk, stevia, and vanilla extract. You will need a blender to puree the strawberries and blueberries (separately). In each mold, add about 2 tablespoons of each pure starting with strawberry. After each layer, freeze the molds to nearly solid. After you add the blueberries layer, freeze them until solid before unmolding.
>> Get the recipe from An Edible Mosaic.
---
Did these recipes make your mouth water? Why not book a culinary vacation in The US and learn to cook even more delicious American staple dishes?