A Foodie's Guide to Bergamo
The go-to resource for choosing your dream culinary vacation. Find all you need to know about the top destinations and ways to elevate your cooking skills & knowledge.
Discover Culinary Vacations now
Offering the best in Lombardy, Bergamo is a splendid city that abounds in rustic local specialties, fine dining, and fantastic local wines. Nestled up high, with scenic views over vineyards and the southern plains right through to the Alps, Bergamo is Northern Italy's best keep secret.
Known in Italian as 'La Citta Dei Mille' ("The City of the Thousand"), Bergamo has two parts: Citta Alta (Upper City) and Citta Bassa (Lower City). Citta Alta is a wonderful old-walled city, with cobbled side streets full of quaint little shops, bars, and traditional restaurants. Citta Bassa is the modern part of the city and is home to the main shopping streets, the business district, and some of the newer, upmarket places to eat. The two distinctly different parts make Bergamo an exciting, contrasting place to visit and a mandatory addition to any food lover's wishlist.
Note: BookCulinaryVacations offers a flexible cancellation policy. Should you not be able to travel as scheduled, we'd be happy to help you alter your booking with the same organizer or a different organizer.
Italian cuisine in Bergamo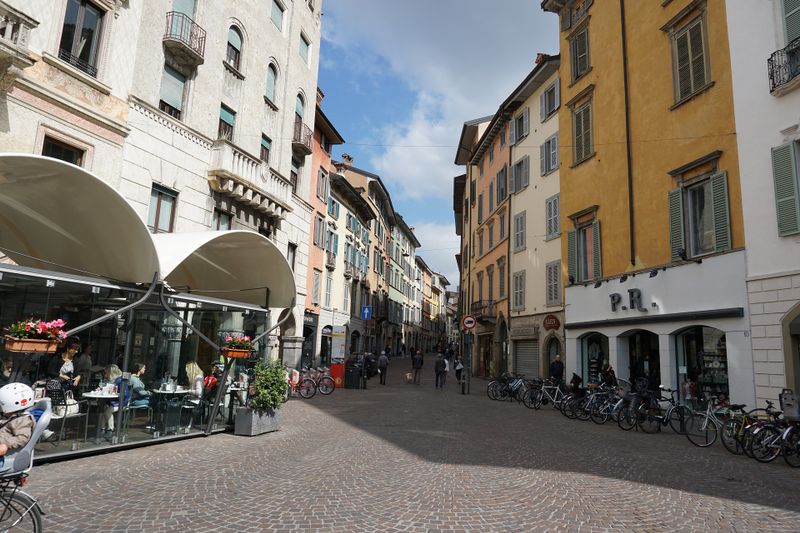 Situated in Northern Italy in the Lombardy region, Bergamo and the surrounding areas are known for their hearty and rustic home-style cooking. The food found in Lombardy is quite different to that in Central or Southern Italy, with the weather playing a big part. The Mediterranean cuisine does not take center stage here, with fewer tomatoes, olive oil, and fish. Instead, farm staples such as corn, root vegetables, mushrooms, meat, and dairy make up for a lot of dishes.
Although the food here can be heavier and richer than that found in other parts of the country, it is a classic cuisine of its own, with many specialties to try and enjoy.
Bergamo's food specialties
Rice is a staple, and the risottos in Bergamo are amongst the best in Italy. Risotto Alla Milanese is the simple, classic saffron-fragranced version of one of the most popular Italian dishes, and can be found on almost every restaurant menu in Citta Alta. Polenta is perhaps the most well-known food in Bergamo, with delicious variations that pair perfectly with stewed and roasted meats.
Meat lovers are well catered for with Cotoletta (breaded veal or chicken cutlets), Osso Buco, a rich veal shin stew, and the hearty, braised cabbage and pork dish Cassoeula found throughout the Lombardy region.
Those with a sweet tooth should try Mostarda, delicious candied fruit in a mustard scented syrup, or the deliciously light cake, Panettone. Polenta finds its way onto the dessert menu too – Polenta e Osèi is a rich, bright yellow cake made from polenta, hazelnut cream, and rum, topped with marzipan.
The wine in Bergamo
Predominantly cooler than most wine regions in Italy, Lombardy produces wines of exceptional quality with a distinct flavor profile. The wine you are most likely to come across in Bergamo is the Valcalepio DOC, which is often served pre-dinner, as an aperitif. This light and fruity white is made from a blend of Pinot Blanc, Pinot Gris, and Chardonnay, and is produced just outside the city. The red variety, made from Merlot and Cabernet Sauvignon grapes, is usually aged in oak barrels and is a rich, full-bodied wine and the perfect accompaniment to the roasted and stewed meat dishes found throughout the region.
You will also find delicious Moscato di Scanzo, a warm, smooth red, as well as Franciacorta, a champagne-like sparkling wine only found in this part of Italy.
Recommended Restaurants in Bergamo
In Citta Alta:
Il Circolino
Hidden away down a little a side street, Il Circolino looks unassuming from the entrance. But step through into the huge terrace area and enjoy delicious pizza, pasta, and Lombardy specialties under the vines.
La Colombina
For amazing views and great local food, try and book a balcony table at this popular eatery right next to the funicular railway.
In Citta Bassa:
Ristorante a Modo
A modern Italian restaurant with a very inventive menu featuring specialties such as fresh gnocchi, homemade pasta, and seafood.
N.O.I.
For a real gastronomic treat, try the modern osteria in Citta Bassa run by Tommaso Spagnolo. The seasonal menu changes regularly but you can expect inventive pasta dishes and delicious steak all the time.
---
Go on a culinary holiday in Italy and learn to take it easy and make food that will soothe your soul!