Famous Italian Destinations And Their Traditional Dishes
The go-to resource for choosing your dream culinary vacation. Find all you need to know about the top destinations and ways to elevate your cooking skills & knowledge.
Discover Culinary Vacations now
When visiting Italy, there are never enough days and meals to try all the traditional dishes. From regional specialties to seasonal dishes, you certainly need multiple trips (or maybe multiple lives) to sample all those scrumptious Italian foods.
If your bucket list also includes digging into the Italian cuisine in Bella Italia, in this article, we've put together a list of some of the most flavorful traditional dishes to try and the region where they originated.
Note: BookCulinaryVacations offers a flexible cancellation policy. Should you not be able to travel as scheduled, we'd be happy to help you alter your booking with the same organizer or a different organizer.
Traveling to Italy in 2021
Nationals of the European Economic Area (EEA), Switzerland, as well as some third-party countries (including Israel, UK, USA, and Canada) may enter Italy.
Except for the EEA nationals (that includes the European Union), everyone entering Italy must present a negative COVID-19 antigen or molecular test taken no longer than 72 hours before arrival.
EEA nationals must have either: a negative COVID-19 antigen molecular test taken no longer than 48 hours before arrival, or a COVID-19 recovery certificate, or a COVID-19 vaccination certificate showing that they've been fully vaccinated at least 14 days before arrival. Only the EU-approved vaccines are accepted.
The EU digital green pass is also accepted not only from EU passengers but also for Canada, Japan, and the US travelers.
Passengers who transited through India, Bangladesh, or Sri Lanka in the past 14 days must carry a negative COVID-19 antigen or molecular test taken no longer than 72 hours before arrival. They'll still quarantine for 10 days and need to take two additional tests (upon arrival and at the end of quarantine).
Passengers who transited through Gibraltar or the UK in the past 14 days must show a negative COVID-19 antigen or molecular test taken no longer than 72 hours before arrival. They must self-isolate for 5 days and take another test at the end of quarantine.
Starting from May 24, all passengers wishing to enter Italy, via all means of transportation, are required to complete the digital PLF, prior to entering the country. Passengers arriving in Calabria, Puglia, and Sicily must present a completed health declaration prior to arrival.
More details can be found here (official source).
But First, What Makes Italian Cuisine So Special?
The Italian way of cooking is known for the regional diversity, simplicity, use of pasta, and excellent olive oil.
So, what exactly makes Italian food so special and a staple of the healthy Mediterranean cuisine?
Simple recipes
Most Italian dishes rely on very few, but high-quality ingredients. In fact, you should be wary of places that pile multiple toppings on their pizzas. Most often, they are trying to hide the low-quality of ingredients. In general, traditional Italian dishes have four to eight ingredients.
Healthy ingredients
Italians are picky when it comes to food and cooking. The locals would rather buy a few slices of a quality ingredient than more of something low-quality. This is especially true for salami, ham, and cheese.
Tomato sauce
Known as "sugo", the tomato sauce is made with fresh, ripe tomatoes, harvested at the right time. During winter, the (often) homemade preserved tomatoes are used to make the sauce.
High-quality olive oil, garlic, and fresh basil add their magical flavors to this iconic Italian sauce. Season with salt and pepper, let it simmer for about 10 minutes, and serve with freshly grated Parmesan or Pecorino cheese, and some fresh basil leaves on top.
Short cooking times
To preserve the taste and health benefits of the ingredients, they should never be overcooked. Pasta is cooked "al dente". This also means less time is spent in the kitchen and more time is spent enjoying the meal and the company.
»Read more: Travel Cheat Sheet - Why You Should Go on a Culinary Vacation in Italy
Italy's Most Iconic Destinations & Dishes
The most difficult thing about planning a trip to Italy is that you can't go to all the amazing places and try all the delicious foods.
There's simply not enough time in our lifetime to tick off the bucket list all those Italian dishes that we "absolutely need to try". Choosing the places to visit is hard and that's why we've selected some of the most representative destinations in Italy and the traditional foods that you should taste while there.
Andiamo!
Pizza in Naples
Photo credit: Culinary Backstreets LLC
Pizza has been around long before the unification of Italy, but there's one moment that made Naples the birthplace of pizza, and especially Pizza Margherita.
In 1889, Queen Margherita went on a tour of her kingdom. While in Naples, she asked to try the dish that she saw many of her subjects eating. She was served the now-famous combination of tomato sauce, mozzarella, and basil on the slab of flatbread. The moment she had her first bite, Pizza Margherita was born (and branded)!
Nowadays, there are two types of pizza to choose from while visiting Italy: Neapolitan-style pizza, or Roman-style pizza. The Roman one is thin and crunchy and is made with oil. The Neapolitan one is soft and fluffy and doesn't contain oil.
What you should know about Naples
The capital of the Campania region, Naples (Napoli) is the third most populated municipality in Italy. With the fisty Vesuvius always looming nearby, this quirky Italian town is the perfect gateway for those who want to explore Pompeii, Herculaneum, or visit Amalfi Coast.
Chock-full of historical sites and boasting a splendid Old Town, Naples is also a well-known foodie destination in Italy. Aside from eating pizza, you should also try pizza fritta (fried pizza), buffalo mozzarella, spaghetti alle vongole (spaghetti with clams), friarelli (a type of greens cooked in olive oil and garlic), taralli (crackers), and sfogliatelle (flakey pastry).
Lasagna, Balsamic Di Modena, and Parmigiano Reggiano in Emilia-Romagna
The origin of lasagna is hotly disputed but one thing is known for sure: it was in Emilia-Romagna that the once poor man's food got changed into today's scrumptious rich oven dish, featuring flat pasta and ragu (meat sauce), known as Bolognese sauce in the English world.
In the beginning, tomatoes weren't part of the dish – as they've old been bought to Europe in the 16th century. Lasagna used to feature pasta, cheese, ragu, and bechamel sauce. Traditionally, even today, only a bit of tomato sauce is used.
The world-famous Italian cheese Parmigiano Reggiano comes from Parma. It's a hard cow's milk cheese that is at its best when aged between 24 and 30 months.
Originally, it was only made with the milk from a cow breed called Razza Reggiana (red-coated cows). To this day, the parmesan made with milk from these cows ages even longer and is great at 36 months.
The area is also famous for one of the most expensive foods in the world: Balsamic di Modena. Unlike traditional vinegar, this balsamic is made from cooked grape juice. Over time and with the help of wooden barrels, it concentrates to become an outstanding accompaniment to cheese or even gelato!
Some of the finest balsamic is aged up to 25 years and it needs a minimum of 12 years to become DOP (Denominazione di Origine Protetta – Protected Designation of Origin).
What you should know about Emilia-Romagna
Located in North-East Italy, Emilia-Romagna is home to cities such as Bologna, Parma, Modena, and Rimini. From beach towns to beautiful medieval and renaissance towns, there's no shortage of things to do while visiting this area.
The region is also famed for culinary delights. Aside from ragu, Parmigiano Reggiano, and Balsamico di Modena, the area is famous for the pastas. The gold-colored tortellini and tagliatelle, the green lasagna verdi, and gramigna, all come from Bologna.
Meat lovers especially love this area. Mortadella, Proscuito di Parma, and Pancetta are just three cured meats that are produced here.
Ribollita and Bistecca Fiorentina in Tuscany
Photo credit: Joy via Flickr
A Florentine T-bone steak (bisteca Fiorentina) is a specific cut of meat (a T-bone steak cut thick) from a specific cow (the loin of a Chianina cow raised in Tuscany), prepared in a specific way (cooked 5-7 min on each side). It embodies one of the best dishes found in Italy!
However, the meat may come from different breeds, so, if you really want to try the specific one, make sure to ask when you order.
You may also find the dish beyond Tuscany, but a different cut is used, bistecca nel filetto, which is a lower cut, smoother, and more melt-in-your-mouth.
But Tuscany is famous for meat-free dishes, too. One hearty choice is ribollita, a vegetable soup thickened with bread. Its roots are based in peasant cooking and it was a cheap, readily available food in the poor Italian countryside. It's the perfect autumn dish when the vegetables are freshly harvested, and the flavor explodes in your mouth. You may often find it in trattorias as a first course, served instead of pasta.
What you should know about Tuscany
Located on Italy's west coast, Tuscany is one of the most popular places to visit in the country.
Particularly known for the renaissance art in Florence and the leaning tower of Pisa, this area also boasts splendid beaches, picturesque rolling hills, excellent food, and wines.
Tuscans worship their bread. Stale bread should not be thrown away and, as a result, you'll find it in a variety of dishes. Panzanella is a salad that features stale bread, tomatoes, cucumbers, and onion, seasoned with olive oil and vinegar. There's a richer variety, too, which includes tuna and capers. Fettunta is Florence's take on bruschetta: toasted bread rubbed with garlic and sprinkled with olive oil and salt. And Pappa al pomodoro is a thick soup that features stale bread, tomatoes, garlic, and basil leaves.
If you are craving some pasta, Potato tortelli are traditional here. These come from Mugello, a mountain area near Florence, and are made from fresh pasta stuffed with potato, usually served with ragu.
For dessert, try the Castagnaccio, a traditional cake made with just chestnut flour and water.
Wash everything down with the famous Chianti wine. Several other traditional reds and also whites are available for your taste buds' pleasure.
Risotto and Polenta in Northern Italy
Italians love starches and rice is one of them. Ironically, while pasta still stands firm as the starch of choice, Italy is the largest rice producer in Europe.
Northern Italy – Lombardy and Piedmont – are known as Italy's rice bowl. The varieties that are grown here - Arborio and Carneroli – are turned into an iconic dish: risotto. The most famous type is risotto alla milanese, which features saffron. According to legend, this interesting addition came by way of workmen who built Milan Cathedral and used saffron to color the stained glass. They figured they could use it to color their meal, too.
Another popular rice dish is risi e bisi, which literally means rice and peas and hails from Venice. The dish also features pancetta, though. Also in Venice, you'll be able to try risotto al nero di sepia, which includes cuttlefish and its ink.
Completing the holy trinity of starches, Italians enjoy polenta. It used to be the starch of choice until fairly recently.
Originally, this mush wasn't even made only from corn; anything at hand that can be milled was used, including buckwheat and acorns.
Polenta may not offer the diversity of flavors and combinations that pasta does, but, without a doubt, Italians have made it special. It's served with stewed meat and it can even be grilled (once cooked). If you happen to be in cities like Milan, Turin, or Venice as the temperatures drop, you should try a polenta dish.
What you should know about Northern Italy
Lombardia, located in Northern Italy, is home to cities such as Milan, Bergamo, and Brescia. It's also where you'll find the splendid lakes: Como, Maggiore, Garda, and Lugano. All are surrounded by picturesque towns that are worth a visit.
Located in northwest Italy, Piemonte (Piedmont) is surrounded on three sides by the Alps. Turin is its capital, while Alba is the home of Nutella (yes, the chocolate spread).
A variety of dishes are outstanding in both regions. Cassoeula, another Milanese food, is cabbage and pork stew served with polenta. And in the city of Mantova, you'll find the remarkable Tortelli Di Zucca, which is pasta filled with pumpkin, crumbled amaretti biscuits, and sweet mustard, served with grated cheese on top.
Hailing from Piedmont, agnolotti is a classic first course that is made from egg pasta filled with roasted meat. Tajarin is the local tagliatelle, also made with egg yolk, and often served with truffle from Alba.
Cheese is amazing in many Italian regions, and Castelmagno DOP is an ancient cheese from Piedmont. It's a semi-hard cheese made from cow's milk of a Piedmontese breed fed on fresh forage or hay. You can often find it grated over the traditional potato gnocchi.
»Read more: A Foodie's Guide to Bergamo
Carbonara in Rome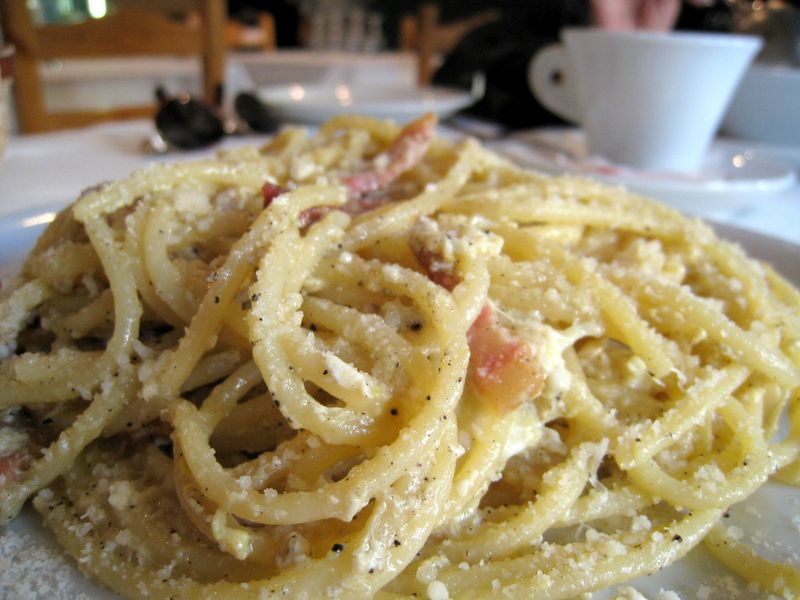 Photo credit: Wikimedia
If you love pasta and want to spend all your time in Italy trying various pasta dishes, make sure to stop by the capital. Controversial – and found all over the world in various degrees of authenticity – carbonara is at its best in Rome.
The dish is very simple and features, aside from pasta, eggs, cured guanciale (pork meat), pecorino cheese, and black pepper.
Even though it's a Roman specialty, some places can get it wrong. So, make sure you indulge in the traditional dish. The best way to find a place that serves the "real" version (without cream and bacon), is to ask for recommendations from a local.
What you should know about Rome
Citta Eterna (The Eternal City), Rome has fascinated visitors for centuries. The capital of Italy and the Lazio region, it is famous for also being the capital of the Roman Empire. A walk on Rome's streets is like walking in an open-air museum, discovering layers and layers of history.
Aside from offering history lessons at every step, Rome is also excellent for nightlife, is a shopping heaven, and has an incredible cosmopolitan atmosphere.
Needless to say, the food is also outstanding – provided you avoid the typical touristy spots. In general, if you can read the menu in English, you are better off looking somewhere else. Eating like a local in Rome means trying even more pasta dishes, such as Bucatini Amatriciana (yes, that's the famous sauce known as amatriciana) and Cacio e Pepe, which features Cacio cheese, a sheep's cheese from Rome's countryside, and black pepper.
Don't have time for a sit-down meal? Grab a pizza al taglio, which is pizza sold by the slice. You may choose among various toppings, but the fewer ingredients, the better.
And yes, gelato is outstanding here, too (more on this later in the article).
Focaccia in Liguria
Photo credit: Gianni D'Anna via Flickr
Although focaccia can be found in many other Italian regions, the home of the classic focaccia is Liguria.
This is hyper-salty thick pizza dough, drizzled with olive oil. In its simplest form, toppings such as rosemary, tomatoes, and olives are added before it's baked. But cheese and zucchini may also be added.
Focaccia is the perfect snack food that you can grab when you take a break from sightseeing.
What you should know about Liguria
Located in northwest Italy, Liguria is crossed by two maintain ranges and lies on the Ligurian Sea. Its capital is Genoa, and the most well-known area is Cinque Terre. Literally meaning Five Lands, the charming villages of Corniglia, Manarola, Monterosso al Mare, Riomaggiore, and Vernazza are perched on rocky hills overlooking the Mediterranean.
Traditional Ligurian food is one of the most refined in Italy. The region is known for its herbs (especially basil and rosemary), olive oil, pine nuts, wine, and porcini mushrooms.
If you love focaccia, you should also try farinata, a bread made from chickpea flour. Olive oil and herbs are also added, and this bread is best eaten hot, fresh out of the oven!
The story goes that the famous minestrone was invented in this region, and dates to the First Crusade when the soldiers from Genoa took vegetables and herbs from the locals and boiled them in their army helmets.
Liguria is also the birthplace of ravioli. Try Ravioli alla Genovese, which is pasta stuffed with veal, breadcrumbs, Parmesan, and some other delicious ingredients.
And let's not forget the porcini mushrooms. Tocco di funghi are made with fresh porcini, cooked with butter, garlic, rosemary, and pine nuts.
Arancini, Cannoli, and Granita di Mandorle in Sicily
The freshly fried rice ball, arancino (plural: arancini) can be found all over Sicily, in bars, restaurants, and stores. These balls resembling oranges (hence the name) are typically filled with ragu and cheese. Sometimes, mushrooms, eggplants, or peas might be added to the filling.
»Read more: 5 Italian Deep Fried Snacks You Simply Won't Be Able to Resist [Recipes]
Sicily is also home to one of the tastiest traditional Italian pastries: cannoli. This tube-shaped sweet dough is deep-fried and filled with a sweet cream made from ricotta cheese, Sicilian Marsala wine, white vinegar, and chocolate chips. Caltanissetta, in Arab, "The City of Women" is the birthplace of cannoli and the perfect destination to try them.
For breakfast with a twist, try granita di Mandorle. Granita is a Sicilian invention and it's almost frozen water flavored with fruit or nuts. A bowl of almond-flavored granita pairs perfectly with a brioche and espresso.
What you should know about Sicily
A superb island in Southern Italy, Sicily has a long history of foreign domination from Romans to Arabs, Greeks, and more. As a result, it has a mixed culture and incredible cuisine.
Catania, Palermo, and Syracuse are some of the most beautiful places to visit on the island, filled with historical sites and things to do. For those who love exploring the outdoors, Mount Etna is an active volcano, ready to be hiked.
Sicily is well-known for the antipasti (starters) and Caponata is a typical one. It's made of fried eggplants, tomatoes, capers, and vinegar, served at room temperature. Want more eggplants? Parmigiana di melanzane originated in Sicily and features layers of baked eggplant, cheese, and tomato sauce.
»Read more: Find YOUR Antipasto - A Geographic Guide to Authentic Italian Appetizers
The perfect street food is Sfincione. Similar to pizza, it features a spongy dough topped with onions, olive oil, and caciocavallo cheese.
Granita di Mandorle is only of the traditional breakfasts that are rather quirky. Gelato in brioche is the other.
Seafood is particularly fresh and is featured in very simple dishes. Pasta con le sarde consists of pasta topped with sardines, fennel, saffron, pine nuts, and raisins, while Polpo bollito is just boiled octopus.
Orecchiette in Apulia
Photo credit: Jennifer Woodard Maderazo via Flickr
The traditional Apulian pasta is orecchiette. Inspired by the trulli roofs, homemade orecchiette are smooth on the inside and uneven on the outside so that the sauce would stick. Traditionally, the sauce used is made of turnip tops and the dish is called orecchiette alle cime di rapa. Another sauce traditionally used is tomato-based and sprinkled with ricotta forte.
These "small ears" pasta originated in Bari in the 12-13th century and require only three ingredients: hard wheat flour, water, and salt.
What you should know about Apulia
Puglia's capital is Bari, but Alberobello might be more popular among travelers. The tiny village is famous for the trulli houses, traditional homes from the Itria Valley, made of limestone, with conical roofs.
Ostuni and Monopoli are two other charming cities, while Gargano National Park is well-known for its hiking trails.
Further up the coast from Bari, the pearl of the Adriatic Coast, Vieste, is a tiny seaside resort. With the sea on one side and the mountains on the other, it's perfect for a vacation. Close by, Peschici features splendid beaches and an intriguing medieval castle.
Apulia is known for cucina povera (poor man's cuisine). As a result, the dishes are simple, feature cheap ingredients, and are incredibly flavorful.
Trattorias and masserias are the places where food is traditional and at its best. Expect a lot of antipasti, ranging from cheese platters to cured meats, various types of bruschetta, deep-fried zucchini, and more. Caciocavallo and burrata are just two types of cheese that will be served as antipasti.
Focaccia is also a staple food here and so are taralli. Other street food includes rustico lecesse, which is a puff pastry filled with tomato, cheese, and bechamel sauce and can be enjoyed in Salento.
And when you talk cheap ingredients, polenta is not to be missed, so make sure to try sgagliozze (fried polenta).
Fave e cicorie is probably the most prominent vegetable dishes and features fava beans pure served with a type of greens.
To Be Enjoyed All Over Italy
Coffee
The coffee culture in Italy is one of a kind. And travelers often get it wrong.
The simplest café you can order anywhere is just a shot (and we do mean one shot) of strong and creamy espresso.
There are some regional differences, but you shouldn't go wrong with café and cappuccino.
Remember the golden rule, though: cappuccino should only be the coffee of choice before mid-day; whereas espresso is the Italian way to settle the stomach after a meal.
One of the best cities to get immersed in the coffee culture is, without a doubt, Trieste. With a long history as a tax-free port, some of the first coffee beans to come to Europe arrived here. Nowadays, the world-famous Illy coffee brand is based here.
The coffee to try in Trieste? Caffe Triestino, which is espresso with cream on top.
»Read more: 10 Countries With Unique Coffee Orders
Gelato
The most popular frozen dessert in Italy is gelato!
Not to be confused with ice-cream (although most often wrongly translated as such), true artisan gelato has a small percentage of fat (4-8%) and a high density. It's served a bit warmer than ice-cream and also melts in your mouth faster.
Real artisan gelato is slow-churned and doesn't have a long shelf life. It's served in covered circular contains and the ingredients have to be on display. If you are drooling over some fruit-flavored gelato, make sure the fruits are in season and the gelato's color is natural.
While gelato is amazing all over Italy, there are some outstanding traditional gelaterias in Rome, Florence, and Milano that will leave you craving for more.
And make sure to also try Affogato, a coffee-based drink featuring a shot of espresso and a scoop of vanilla gelato.
Tiramisu
Photo credit: PizzAcademy Sanremo
Probably the country's most beloved after-dinner dessert, Tiramisu is deceptively simple.
It's a no-bake sweet featuring alternative layers of coffee-soaked ladyfingers (savoiardi biscuits) and mascarpone cheese.
Unlike the other foods featured here, Tiramisu is very young as it was created in the 1960s. But just like all other dishes, the best Tiramisu features only high-quality ingredients. Sometimes, a variety of cookies can be used instead of the ladyfingers, or eggs and cream are added to mascarpone.
Regardless of the local recipe, Tiramisu is best enjoyed anywhere in Italy.
HERO photo credit: Cook Eat Discover
---
Craving to explore other Mediterranean countries and their outstanding dishes? Then go on a culinary vacation in Greece!