Practical Tips to Break Out of Your Culinary Rut
The go-to resource for choosing your dream culinary vacation. Find all you need to know about the top destinations and ways to elevate your cooking skills & knowledge.
Discover Culinary Vacations now
Are you tired of cooking the same old dishes? Are you bored of eating at the same restaurants?
Or maybe you are running out of cooking ideas? The food tastes bland, you are not really in the mood to cook, and when you do, something is not quite right.
When this happens, you, my friend, are in a culinary rut!
We've all been there more times then we want to admit. But instead of focusing on what's not right, discover how to pluck you out of this unpleasant state and get your food grove back!
Here, we are sharing some useful & fun tips to help you deal with the culinary rut.
Go on a culinary weekend
Photo credit: Wonderful Italy
When you feel like nothing in your house or around your house can save you from your culinary rut, we highly recommend a culinary vacation.
And it doesn't even have to involve a long-haul flight to get to one of the food meccas (although this is a sure way to cure any problem).
There are plenty of culinary weekend vacations close to where you live no matter which part of the world you call home.
You get to sample amazing food, meet awesome foodies, see gorgeous places, and learn how to cook some of the great food you get to eat there.
What's great about a short culinary vacation is the fact that it's for everybody's budgets! It all depends on your preferences and availability but a weekend away can cost as little as US$50.
» Read more about Top 5 Reasons Why You Should Go On a Culinary Vacation
Plan the culinary escape of your dreams
Photo credit: Cucina di Classe
Most times, when you're tired of the food you're eating daily, you're tired of pretty much everything else.
So, what is there to do? Find a wonderful destination that you've been meaning to visit and plan the culinary vacation of your dreams.
If you've ever wanted to learn to make pizza in Italy, now is the perfect time to indulge in planning that vacation. And once the stars align, hop on that flight, and go on your merry way.
Immerse yourself in a whole new culinary adventure and things will fall into place!
Learn Through Online Cooking Courses
When travel is not possible, the next best option is to learn from the best chefs from the comfort of our own kitchens. Enter online cooking courses, one of the most affordable and easiest ways to break out of your culinary rut!
Starting at as little as US$24 for two days' worth of courses, you will get a chance to learn how to cook homemade Italian dishes, bake classic desserts, improve on your pizza making abilities, or get deep into the secrets of Greek cuisine.
Not only are these courses affordable, but you won't need to travel or even be out of your house to join them. Just make sure you have a device that can run the required apps (Zoom, Hangouts, etc.) and that you have a strong & stable internet connection.
» Read more about Online Cooking Courses: Elevate Your Culinary Skills in Your Own Kitchen
Host a Virtual Culinary Party
How about you call all your foodie friends and have a culinary party to spice things up?
Ask everyone to cook one signature dish and pair it with the appropriate wine.
If you cannot get together in person, fear not, Zoom is here. Just move your party online and have fun without having to step out of your home.
Boredom has no place at a culinary party (even a virtual one) and you will soon find that inspiration that you're yearning for!
To make things even more interesting, you can have a themed culinary party; try Mexican if you're in the mood for some heat, or Greek, if you're feeling feta and olives.
How about some Japanese or even Ethiopian? The sky's the limit!
Try a New Restaurant
Discovering a newly opened restaurant may just be what you need to get inspired again.
Whether you've eyed a new one in town or you've been wanting to check out that place in the other side of town, now is the time to expand your horizons.
And why not? Step out of your comfort zone. If you've always opted for meat, why not try a vegan place? You don't need to order the most exotic-sounding dish, but you can certainly try a plant-based version of something you like.
You can also opt to try new cuisines. If you always went for Mediterranean food (guilty!), maybe it's time to look into some Asian fare?
Discover the World of Food Bloggers
When it comes to new dishes, delicious recipes, and stunning food photos, the Internet is a never-ending and accessible source of inspiration for just about everyone.
Instagram, Facebook, and YouTube are teaming with well established and up-and-coming food bloggers, who are ready to dish out their secrets and new recipe creations.
» Read more about 5 Instagram Personalities All Food Lovers Need to Follow
Find Famous Chefs on Social Media
To be honest, YouTube may just be the best inspiration source. All you need is a phone, an internet connection, and time to go down the rabbit hole when looking for recipes!
When hunger strikes and you have no idea what to cook for lunch or dinner, just browse YouTube channels (or other social accounts) of popular chefs, such as Jamie Oliver or Ella Woodward (Deliciously Ella). You are guaranteed to find at least an idea in less than 10 minutes.
There's just something cool and inspiring about watching passionate people cook delicious food, don't you think?
Peruse Through Cookbooks
Whenever you feel uninspired in the kitchen, pull out your favorite cookbook and leaf through it until something catches your eye.
Even if you are not keen on following recipes, there's always something that should inspire you. After all, that's all we want, when we're bored, something to catch our eye; something to make us feel that hunger again.
Also, if you are friends with ebooks, browse Amazon or Google Books, and see what cookbooks are available for free. You'd only have to lose the time needed to download and leaf through them. But you may gain some new favorite recipes!
Introduce New Ingredients to Your Cooking
Nowadays, supermarkets stock on exotic fruits & vegetables from all over the world.
The first time I had an avocado, I hated it. It was somewhere in 2007 when I decided to try new foods and the avocado was high on my list. Too bad the one I got was not ripened and it tasted like grass. Took me almost 10 years to try again. And now I love it (and I know exactly how to find the good ones).
I have similar stories about papaya, mango, Lychees, to name a few.
Let alone, it took me almost a year of being vegan to start using nutritional yeast or chia seeds.
Find that elusive vegetable, food, or ingredient and introduce it in your cooking. Sparks will surely fly!
Try Some New Smoothies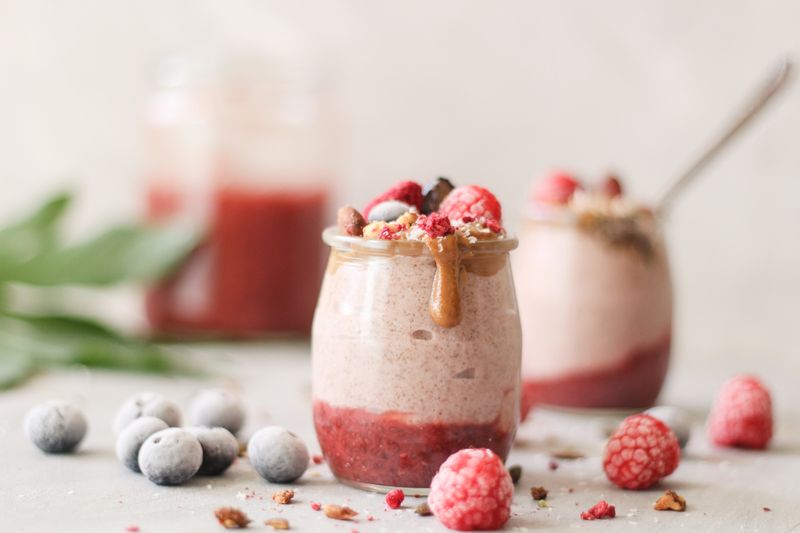 Sometimes, all it takes to break out of the culinary rut is to change something small.
For example, if you've always had a savory breakfast, try a sweet one. And a smoothie is the easiest way to experiment. There are plenty of recipes online, but our suggestion is to try with simple combinations.
The basic rules to create a smoothie are simple. Choose a liquid base (milk, plant-based milk, water, coconut water, apple juice) and add the main ingredients (frozen or fresh fruits or vegetables). Then create the creaminess (banana, avocado, yogurt, plant-based yogurt). You can also add some greens (spinach, kale) or extra nutrients (chia seeds, flax seeds, goji). If you feel extra creative, add some spices, too (ginger, turmeric).
Go Food Shopping
Food shopping is the perfect occasion to stumble upon rare vegetables, interesting ingredients, and cool dishes.
Next time when you go shopping – to the farmer's market or supermarket – spend some time to browse aisles where you don't normally shop. Or check out those thematic isles that supermarkets sometimes feature.
Nine out of ten cases, you will find something interesting, and get home with some goodies in your bag, excited about your food again. Yummy!
Go for a Walk
This one may seem a bit strange, so hear me out.
Take your mind off the food, and work up a real appetite, so by the time you get back home, you will really be hungry and will certainly eat something.
Also, during your walk, you may come across a smell, a shop, or a restaurant that may spark some interest and give you some idea.
Go Back to Basics
When all else fails and you simply cannot be inspired to cook anything, a good rule is to go back to your favorite foods. It can be a vegetables risotto, mac & cheese, mushrooms pasta, or mashed potatoes.
Usually, we are so used to cooking them that it becomes second nature to put together the dish and enjoy the result.
Even when you are not in the mood for anything, when you cook your favorite (comfort) food, you will enjoy it and not regret having it. Everyone has a favorite dish or a signature food that can save you when you're in a culinary rut!
» Read more about 10 Scrumptious Comfort Foods That Soothe the Soul [+ Recipes]
---
Do you feel like you need some inspiration? Delight your taste buds in a spectacular destination and make memories that will last a lifetime during a culinary vacation in Europe!