5 Quick, Easy, Cheap, and Healthy Recipes for Students
We're expert culinary travellers and we love helping you. BookCulinaryVacations is the largest culinary travel website with 1114 unique listings in 267 destinations around the world.
Discover Culinary Vacations now
With the opening of each new semester, as you hit the books, do not forget to make food your priority. You need a lot of energy as a student. This energy should take you through the long lectures, study group discussions, and maybe even a part-time job.
It sounds much easier to grab some fast food when you're in a hurry, but we assure you a cooked meal will be much better. A recent study showed that 24.3% of NYU students are overweight and 6% are obese because of their poor eating habits. Good food has the ability to make you feel like a new person. But there are a few other qualities that make an ideal recipe – it should be filling, tasty, and easy to cook.
The recipes below are effective, quick, and very cheap, thus suitable for the college student that is on the budget:
1. Mexican Stuffed Chicken Breasts
This recipe serves up to four people. It has a cooking time of 25 minutes and a hands-on time of 10 minutes.
Ingredients
4 chicken breasts
1 yellow pepper that has already been sliced into small thin strips
4tsp of chipotle sauce
2tbspn of salsa
75g of shredded cheese
Method
Preheat the oven to 200 degrees. Make deep incisions on the tops of the chicken breast. Ensure that you do not cut all the way through.
Put the chipotle sauce in a bowl, add the chicken and toss to coat.
Place the chicken on a baking tray with the cut side facing up. Stuff the cuts with the tortilla chips and pepper slices. Drizzle the salsa over the tips and sprinkle the grated cheddar.
Place in the oven and cook for 25 minutes or until golden brown. Serve with rice or guacamole.
2. Sausage Casserole
This process, although taking a little longer to cook, has results that are totally worth it such as leaving you in a good mood. The hands-on time is 10 minutes, hence, does not require a lot of effort. The recipe below serves four people.
Ingredients
8 sausages (beef, chicken or pork depending on your preferences)
3tbspn of Branston pickle
1tbspn olive oil
400ml of beef stock
2 onions
2 garlic cloves
2tbspn flour
3 parsnips
Method
Heat half the oil in a pan and brown the sausages. Put in the slow cooker.
Using the remaining oil, cook the onions until soft for about 10 minutes and allow them to caramelize by increasing the heat in the last three minutes. Stir in the flour, followed by the stock. Mix for about a minute and add to the slow cooker.
Add the remaining ingredients to the slow cooker and cover with a lid. Cook for four hours.
Serve with mashed potatoes and steamed broccoli.
3. Black Bean Cottage Pie
Photo credit: onegreenplanet.org
This recipe has a hands-on time of 15 minutes and a cooking time of 30 minutes. The recipe below serves up to four people.
Ingredients
75 g of low-fat sour cream
1tbsp olive oil
1 onion, finely chopped
250g minced beef
1tsp cumin powder
400g black beans drained and rinsed
400g of chopped tomato
750g sweet potatoes, peeled and chopped
50g feta cheese
Method
Heat the oil in a large pan and fry the onions for 5 minutes. Add beef and fry for 5 minutes or until browned. Stir in the spices and garlic and cook for one min. Occasionally break up the mix with a spoon.
Add the beans and tomatoes and allow it to boil. Simmer for 1 minute until it thickens. Add in the coriander.
Meanwhile, cook the sweet potatoes by boiling them in a large pan of water for 15 minutes. Cook until they become soft. Drain the excess water and mash the potatoes while stirring in the sour cream.
Preheat the grill to high. Place all the ingredients in an ovenproof dish beginning with the beef and the mashed sweet potatoes on top. Crumble the feta cheese on top. Grill until the cheese turns golden. Serve immediately.
4. Prawn and Chorizo Pasta
The recipe has a hands-on time of 20 minutes and a cooking time of 15 minutes. The recipe serves four people.
Ingredients
290g red peppers, roasted and drained
1tbsp tomato puree
½tsp caster sugar
350g pasta
150g chorizo ring
150g raw king prawns
1 garlic, chopped
1/4tspn chili flakes
2tbspn sherry
200g spinach
A handful of parsley, chopped
Method
Divide the peppers into two and add one half in a food processor together with the tomato puree, seasoning, and a little sugar to taste.
Bring salted water to boil and cook the pasta according to the instructions provided on the cover packaging. Drain, reserving a cupful of the water.
Heat a deep frying pan over medium heat and fry the chorizo until golden brown. Add prawns, garlic, and chili flakes. Cook until the prawns are pink. Add sherry and bubble for about 30 seconds. Stir the peppers that had been reserved earlier. Allow the food to simmer.
Add spinach and pasta into the frying pan. Cook until the spinach has wilted.
Sprinkle parsley and serve with a homemade pasta sauce.
5. Toad in the Hole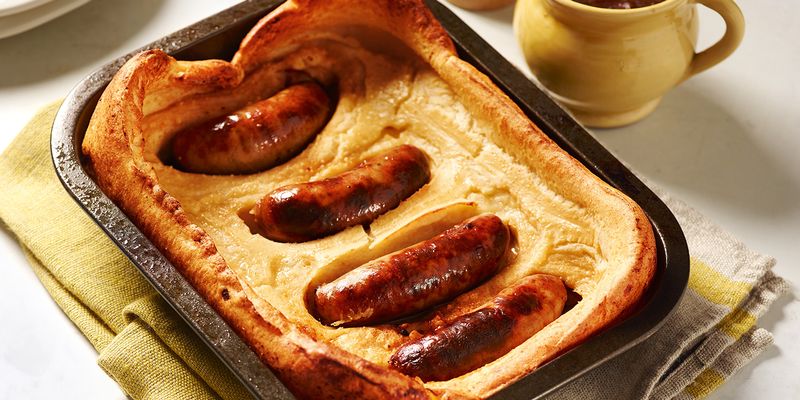 Photo credit: dinner4tonight.com
This recipe is quick and very delicious, just perfect for those long winter evenings.
Ingredients
175g flour, sifted
3 eggs, beaten
225ml milk
2tbspn vegetable oil
8 sausages
125g cherry tomatoes
Method
Preheat the oven to 220 degrees. Put flour in a bowl and make a well in the center. Add the eggs and milk and whisk.
Place oil and sausages in a pan and roast for 15 minutes.
Add the tomatoes and seasoning. Pour batter into the tin. It should cover over and between. Bake for 25-30 minutes. Serve with salsa.
With these recipes, you are set for the semester. Make sure you do not forget desserts too.
---
Learn to whip up finger-licking meals that are easy on the pocket and are guaranteed to impress your guests on a budget culinary vacation.
You can find Charles on Custom Writings. Connect with him on Linkedin, Twitter, Facebook & Google+.