Top Culinary Destinations in Asia for a Flavorsome Experience
The go-to resource for choosing your dream culinary vacation. Find all you need to know about the top destinations and ways to elevate your cooking skills & knowledge.
Discover Culinary Vacations now
Deciding to embark on a scrumptious culinary adventure in Asia can be exciting. At the same time, planning everything is quite daunting.
Across Asia, cuisines feature a wide range of dishes, spices, and textures. There are so many incredible places to visit that, most often, two important factors influence the decision to choose a culinary vacation in Asia: budget and personal preferences.
To help you decide, in this article, we are sharing the top culinary destinations in Asia that you ought to add to your bucket list if you're seeking a gastronomic adventure.
Should I plan to go on a culinary vacation in Asia ahead of time?
All trips require at least some amount of planning. Whether it's booking transport, looking up the documents and requirements you need to enter a country, or just figuring out what you can do once you get to the destination, there will be some time spent going over technicalities.
And while going on a culinary vacation close to home can be a last-minute deal, things aren't as easy when it comes to planning to fly long haul and go on a culinary trip in Asia.
Yes, at the time of writing this article, most of Asia is still not open for travelers. And countries that do allow them in, make traveling there quite a bit of a hassle. Exactly because of this, investing some time into getting the correct information for entering the country and looking up culinary trips ahead of time is a must.
Getting a visa to enter Asian countries is also mandatory (for most nationals). Due to the current situation, it will take longer to obtain it, so the paperwork must also be submitted in advance.
And worry not as Bookculinaryvacations offers a flexible cancellation policy. Should you not be able to travel as scheduled, we'd be happy to help you.
Photo credit: Explore Routes
Mostly known for being the birthplace of yoga and home to the gorgeous Taj Mahal, India offers a mix of flavors and experiences that are guaranteed to make a lasting impression.
The sheer size of the country, however, can leave anyone overwhelmed when it comes to choosing where to go, what to eat, and what to do. Whether you are exploring the mountains in the north or prefer to spend your days on the beaches in the south, you'll soon realize that from town to town the food changes along with the culture.
A fast-food staple that can be found everywhere in the country is paav bhaji. It consists of buttered bread (paav) and a thick vegetable curry (bhaji) served with chopped onion and a slice of lemon, making it an ideal breakfast food. Another typical breakfast food available everywhere but hailing from Punjab is chole bhature. The chickpeas curry (chole) is served with fluffy fried bread (bhature).
Tandoori chicken, a very popular Indian delicacy, consists of roasted chicken marinated in yogurt and spices, then slow-cooked in a traditional oven, called the tandoor, at a very high temperature. Uttapam, the Indian answer to pizza, is made with flatbread, stuffed with onions and tomatoes, and served with sambar and chutney. Dal Makhani, another Punjabi dish, features lentils and beans traditionally cooked overnight in a tangy masala and served with fresh cream.
Shikanji, the Indian lemonade, is made from lemon or lime juice, ginger juice, ice, water, but often also contains salt, saffron, and cumin, making it a perfect drink to avoid dehydration when you are out sightseeing.
We recommend:
3 Day Taj Mahal Tour with Indian Cooking Class in Agra
Enjoy the ravishing beauty of Taj Mahal, visit UNESCO World Heritage sites in Agra, and learn the art of Indian cooking.
Upon arrival in Delhi, you'll be picked up at either the hotel, airport or train station. You'll arrive in Agra, check-in at the hotel, and meet with your guide. On the same day, you'll visit Agra Fort that is not only a UNESCO heritage site but also offers outstanding views of Taj Mahal. Later, you'll visit Itmad-Ud-Daulah's Tomb, also known as Baby Taj. Stay for a magnificent sunset with a spectacular view of Taj Mahal.
The next day, you'll catch the sunrise at Taj Mahal. Then, you'll visit Fatehpur Sikri, the "Ghost City", the perfectly preserved red stone capital of Mughal emperor Akbar. In the evening, you'll join a cooking class, during which you'll learn the basics of home cooking and get to practice making a full meal.
After checking out on the third day, you'll be dropped off at Indira Gandhi International Airport (DEL).
The package includes two meals each day, as well as water. All monument entrance fees are also included and so is a tuk-tuk ride near Taj Mahal, the transportation to/from the airport, and during the trip.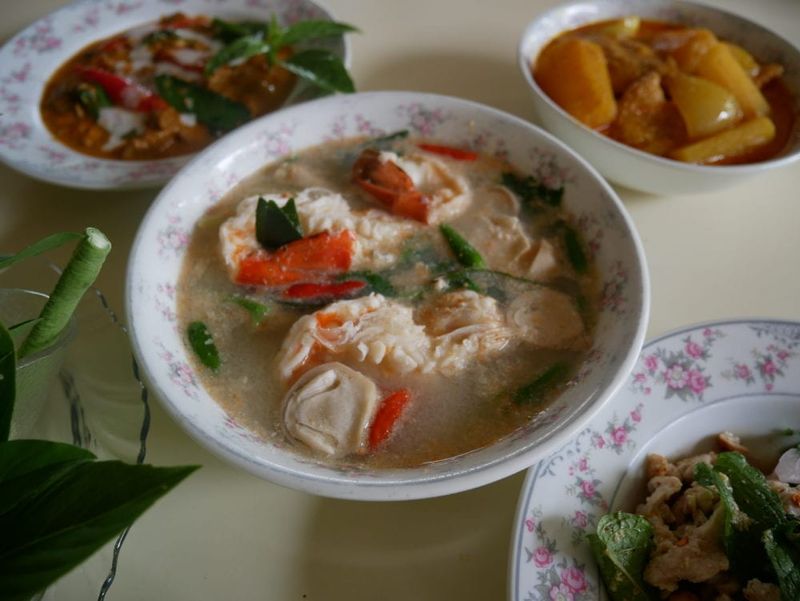 Photo credit: Explore Routes
The Land of Smiles, Thailand is famous for the gorgeous beaches, incredible temples, and mouth-watering food.
Guay teow (noodle soup) can be found almost everywhere in the country and is one of the most popular Thai dishes. Rarely vegetarian-friendly, it's made with chicken, pork, or beef and either rice noodles or egg noodles. It is topped with condiments such as dried chili peppers, fish sauce, and lime juice.
Tom Yum Goong (spicy shrimp soup) isn't for the faint of heart as it comes with quite a spicy kick. Galangal, lemongrass, kaffier lime leaves, chili, shallots, lime juice, and fish sauce are added together with the fresh prawns and mushrooms.
Another popular dish is som tam (spicy green papaya salad) and it comes in many varieties, but the traditional recipe consists of shredded green papaya, tomatoes, dried shrimp, carrots, garlic, peanuts, dried shrimp, runner beans, palm sugar, tamarind pulp, fish sauce, lime juice, and chilis.
Pad Thai (Thai-style fried noodles) is a favorite among travelers who are discovering the mouthwatering local cuisine. It has a vegetarian version, too, but most often this noodle dish is made with shrimp or chicken.
If you are looking for something sweet, kao niew ma muang (mango and sticky rice) will hit the spot. It consists of sticky rice, fresh mango slices, and sweet condensed milk.
We recommend:
2 Days Hands-on & Authentic Thai Cooking Holiday in Bangkok, Thailand
Learn the basics of Thai cuisine and visit a traditional market to discover the right ingredients.
You have a choice between morning and afternoon classes. Either session takes four hours, and you'll learn to cook four different dishes.
Each day has a different theme, so make sure to check the detailed program before you book your arrival day. Regardless of your choice, however, you'll learn how to make the homemade curry paste, prepare and cook rice, and have the chance to cook by yourself, following the teacher's instructions.
And don't worry if you are not used to spicy foods. You will be able to choose how spicy you want to make your food so that you'll enjoy it.
The package includes lunch and dinner. Free tea, water, and coffee are also provided during classes.
Read More: Top 5 Reasons Why You Should Go on a Culinary Vacation
Photo credit: Threeland Travel
Known for its rice noodles (Pho), the experience of making Vietnamese coffee, historical cities, and French-colonial architecture, Vietnam is where you'll encounter unique flavors and healthy dishes.
Pho is the signature dish of the country and comprises rice noodles served in a flavorful soup. In the bowl, you'll also find some meat (although vegan options do exist), bean sprouts, fresh herbs such as mint, basil, and cilantro, onion plus a side of nuoc cham (fermented fish) or chili sauce. It's typically eaten for breakfast and can be found everywhere.
Banh Mi is a sandwich that mixes the French heritage with the local flavors. The toasted baguette is loaded with some sort of meat, pickled vegetables, pate, butter, soy sauce, cilantro, chilis, and hot peppers.
Goi Cuon (Vietnamese fresh spring rolls) is the perfect snack and consists of vermicelli noodles, shrimp or pork, lettuce, and basil, all wrapped in rice paper. Because the flavor is subtle, it is served with a hoisin-based dipping sauce, topped with peanuts, and is also dipped in chilis.
Bò Kho is the Vietnamese typical stew. Enjoyed for breakfast or lunch, it consists of a stew featuring meat or tofu. The protein is simmered in fish sauce, sugar, water, with carrots, onions, and coriander. Dip French bread in it.
Com Tam (broken rice) is served with fried egg, diced green onions, meat, pickled vegetables, cucumber slices, and dipping sauce. It's a breakfast or lunch staple but can be enjoyed any time during the day.
We recommend:
12 Days Private Sightseeing Tour and Foodie Adventure in Vietnam
This tour takes you right to the heart of the different regional cuisines, enjoying mouthwatering street food and sophisticated fine dining.
On one day, you'll explore Ho Chi Minh City's historical sites. Enjoy lunch at one of the best places where you can sample the Saigon noodle soup. In the afternoon, you'll go on a street food tour using a traditional cyclo. You'll visit local markets and traditional eateries.
On another day, you'll visit the Mekong Delta and eat lunch at a riverside restaurant. Another highlight is exploring Hoi An and discovering the famous dish Banh Mi Phuong, made with homemade pork liver pâté mixed with fat and ground pork, thinly sliced roast pork loin, pork meatloaf, sprout-sized coriander, a healthy dose of mint, Vietnamese coriander, thinly sliced green onions, lettuce, tomato, cucumber, pickled-julienned carrots, and the sauces which remain closely guarded secrets.
You'll also explore Hoi An by motorbike, visit Hue Imperial City, and take a cooking class in Hue. You'll visit the well-known Dong Ba Market and try the local specialties such as Bun Thit Nuong (rice noodle with grilled pork and veggies) and Che (sweet soup with many flavors).
In Hanoi, you'll enjoy a home cooking experience, try the local beer, as well as check out the city's highlights, including the Tran Quoc Pagoda and Truc Bach Lake.
Part of this package is also a cruise in Halong Bay, complete with dinner, and an overnight stay on board.
The price includes the private air-conditioned transfer during the trip, en-suite cabin on the cruise, English speaking guide (except on free days), two boat trips, meals, street food tasting and drinks, entrance fees, visa, domestic air tickets, and airport transfers.
Photo credit: Traveling Spoon
While for most travelers Bali is Indonesia, things can't be further from the truth. The Island of Gods might be a paradise on Earth, constantly attracting visitors from around the world, and boasting some incredible views and vibes, but this Asian country also has incredible temples and volcanos.
But aside from visiting temples, hiking volcanoes, striking yoga poses in gorgeous places, and surfing, make sure to also taste the food.
Indonesian satay is meat skewers, cooked over coals, available at street stalls all over the country. The skewers are served with ketupat (rice cakes) and peanut sauce.
Original from Padang, Sumatra, Beef Rendang is famous for its spiciness and richness. This stew is served alongside rice or vegetables.
Nasi Goreng (Indonesian fried rice) might just be the most versatile food ever created! Mix it with beef, chicken, seafood, or keep it vegan. The sweet thick soy sauce (keycap) gives this dish the typical Indonesian flavor. It's usually served with pickled cucumber and carrots.
Siomay is the Indonesian version of dim sum. The steamed fish dumplings are served with steamed potato, cabbage, egg, and peanut sauce.
Gado-gado is the Indonesian vegetable salad, consisting of boiled or steamed, long beans, spinach, and potatoes, along with tofu and tempeh, served with bean sprouts and spicy peanut sauce.
We recommend:
6 Day Raw Food and Yoga Holiday in Ubud, Bali
This unique holiday is fully personalized. Travelers will have the opportunity to enjoy yoga, take dance and art classes, go on excursions, learn to cook healthy dishes, and more.
You'll take workshops and learn how to prepare raw food. Additionally, you'll also make chocolate and join inspiring lectures on nutrition.
The package includes all raw meals, cultural outings, a visit to the holy temple Tirta Empul, art workshops, a spa treatment, as well as yoga and pranayama (breathing technique) classes.
Photo credit: Siem Reaper Travel
Home to the colossal temples of Angkor Wat, Cambodia is a country mostly known for its horrific acts during the Khmer Rouge era. While history is what most visitors come here for, the fantastic beaches, thick jungles, and excellent food make this Southeast Asian destination a lovely choice for a trip.
Samlor korkor, the true national dish of the country, can be found pretty much everywhere, from restaurants to street food stalls and in the home kitchens. This soup is highly versatile and typically consists of a variety of vegetables, some kind of meat, and two local ingredients prahok (fermented fish) and kroeung (fragrant curry paste).
Nom banh chok is typically a breakfast food and consists of noodles served with a fish-based green curry gravy, cucumbers, banana flowers, long beans, edible flowers, and wild leaves.
Bai sach chrouk (pork and rice) is available at street food stalls across the country and consists of pork that is marinated in palm sugar and fish sauce, then slowly grilled and served with white rice, as well as freshly pickled cucumbers and daikon radish with plenty of ginger. Alongside it, you'll also get a bowl of chicken broth topped with scallions and fried onions.
Bok trop pgnon (eggplant dip) consists of grilled eggplants that are smashed with garlic, shallots, chilies, and sugar. While it may be served with some form of fish, sometimes it will be served without. What you'll get with it, though, is fresh or steamed veggies.
Nhoam svay kchai (green mango salad) is made with fresh, green fruit and herbs. The fruit may be ambarella, banana blossom, cucumber, or lotus root. The herbs include basil and mint. It also comes with dried shrimp and some smoked fish.
Num ansom (sticky rice cakes) may be sweet or savory. They may be filled with banana and coconut or pork and mung beans
We recommend:
7 Day Cambodia Real Food Adventure from Siem Reap to Phnom Penh
Experience the charm and generous spirit of Cambodia on a journey through ancient lost capitals and modern cities.
Upon arrival in Siem Reap, you'll start the food journey with an evening street food tour. You'll stop at a restaurant where you'll taste fruits, spring rolls, tofu, and barbecued snails. You'll then try some bugs, barbequed chicken, Khmer rice cake, and more.
On the next day, after breakfast, you'll visit the Angkor Wat temple. You'll also explore the ancient city of Angkor Thom, Bayon Temple, and Ta Prohm. For lunch, you'll enjoy a Khmer-style meal at a local restaurant.
On another day, you'll discover Tonle Sap Lake, experience the livelihoods of Cambodian people living in the floating villages, take a cooking class, and catch an evening performance at Phar Circus.
In Phnom Penh, you'll take an evening tour for a memorable food-focused experience. You'll enjoy typical Khmer food and soak up the street market atmosphere. The next day, you'll take a historical tour of the city.
The package includes airport pick-up and drop-off, land transportation, a tour leader, as well as all admission fees for the attractions included in the itinerary.
---
Unable to travel to Asia right now? There are plenty of scrumptious culinary vacations in Europe ready to make your taste buds jump for joy!