Culinary Destinations to Visit in 2022 for a Scrumptious Adventure
The go-to resource for choosing your dream culinary vacation. Find all you need to know about the top destinations and ways to elevate your cooking skills & knowledge.
Discover Culinary Vacations now
As we are drawing close to the end of 2021, we can't but get excited about the culinary adventures that await in the year ahead.
While many countries have seen a revival of domestic tourism in 2021, international travel is still restricted. But, as vaccinations ramp up across the globe, more countries are lifting restrictions, allowing travelers to enjoy discovering new foods and culinary destinations again.
Without a doubt, cooking and eating can soothe the soul and keep our spirits high even in the darkest of times. Online cooking courses still offer an excellent way to indulge in new cuisines and tastes.
However, as things are looking brighter for the upcoming year, here, we are sharing the top 10 culinary destinations for 2022. Choose your favorites, add them to your bucket list, and plan your trip once it's possible to do so.
Note: BookCulinaryVacations offers a flexible cancellation policy. Should you not be able to travel as scheduled, we'd be happy to help you to alter your booking with the same organizer or with a different organizer.
Disclaimer: At the time of writing, some countries are still subject to restrictions. While some countries have already opened for visitors, we strongly advise you to stay up to date with the latest COVID-19 restrictions from official government sources. Our list of countries is based on data over the last 12 months.
Photo credit: Wally Gobetz via Flickr
One of the biggest draws to exploring a destination is the food. And the US makes no exception. From the local dishes to the distinctive cultural staples, the American cuisine is pleasing food critics and travelers alike.
Some of the top food cities in the US include Charleston (South Carolina), thanks to its famous seafood scene marked by the traditional fried oysters, shrimp & grits, or garlic crabs. Oakland (California) has diverse culinary offerings that include sushi, French-inspired dishes, Mexican staples, and more. And let us not forget New York City (New York), which continues to offer varied and quality dishes at accessible prices, whether you're craving a slice of pizza or some steak.
»Read more: Top Foodie Vacations in the US
Photo credit: Thelmadatter via Wikimedia
If you are a foodie, there's no better place for a vacation than Mexico. Affordable and delicious, this country's culinary traditions are varied, as almost every region has its staple foods.
There is much more to Mexico than tequila and tacos, though. And you should certainly attempt to discover at least some of its extraordinary foodie destinations.
A World Heritage site, Puebla's city center is filled with places that serve some of the best food in the country and is famous for mole and the authentic chiles en nogada (stuffed poblano chiles). Oaxaca, a quite exotic state, is known as the birthplace of many dishes, including tlayuda, also known as Mexican pizza. The capital of Yucatan, Merida may be a more underrated foodie destination but, it's home to some mouthwatering staples, such as cochinita pibil (slow roasted, well-seasoned pork) served on tortilla and topped with red pickled onion, a dish known as panuchos.
Photo credit: Gonzalo Rivero via Wikimedia
A rich history, stunning landscapes, and tango make Argentina a vibrant place to visit. Another important reason to visit the country is its incomparable cuisine, which goes beyond asado (barbeque) and dulce de leche.
Known for being the first wine producer in the country, Mendoza is an outstanding destination for wine tours. Its cuisine features a blend of Spanish and Italian influences, and a tasty staple is patitas aliñadas (pork or beef cooked in the oven and served with bread, butter, and sauces, such as chimichurri).
Head in the northern part of the country, in Salta province, and indulge in empanadas, savory pockets of dough with various fillings.
And while you might want to pack your tango shoes to visit Buenos Aires, the country's capital is an unmissable stop when it comes to food. Pasta, pizza, and meat are present in the multitude of award-winning restaurants. Empanadas are also delicious here and so is choripan (chorizo sausage with bread and chimichurri sauce)
»Read more: Top Fine Wine Manufacturing Countries in The World
Photo credit: Trishhhh via Flickr
We can all agree with Federico Fellini that "Life is a combination of magic and pasta".
Known for its regional diversity, simplicity, copious amounts of pasta, and olive oil, Italian cuisine is, without a doubt, one of the most popular in the world. But if you truly want to indulge in the traditional fare, make your way to Bella Italia.
And going back to pasta, Rome is the place where you should order carbonara, featuring pasta, eggs, cured guanciale (pork meat), pecorino cheese, and black pepper. A bit to the south of the capital, Naples is the birthplace of pizza, and where you should order Margherita (pizza dough, tomato sauce, mozzarella, and basil). Head over to Tuscany for some hearty vegetable soup, ribollita, and bisteca Fiorentina (T-bone steak).
»Read more: Famous Italian Destinations And Their Traditional Dishes
Food is more than a passion in France, and we can safely say that many of us have daydreamed about having a croissant with a spectacular view of the Eifel Tower.
As part of the French cultural identity, the food in this European country emphasizes quality and seasonality. Locals take their time to enjoy every morsel of food and long lunch breaks are common.
Each region in France has its local cuisine along with the beverages that suit it best, whether that's wine or beer.
Bordeaux is synonymous with great wine and excellent food revolving around lamb, beef, and pork.
Love mustard? Dijon might be famous for this condiment but it's also renowned for the wines and local specialties, such as andouillette, a sausage made with pig intestines, or garlic butter snails.
Paris, on the other hand, is where everything blends. From French dishes to fusion cuisine that goes beyond its borders, your taste buds are in for a feast. The City of Light does have its specialties though so make sure to try various pastries, crème brûlée, chestnuts, and camembert.
»Read more: A List of Foods You Must Try During Your Trip to France
Photo credit: Porto Planet
Most travelers think about Greece as a typical summer destination, focusing on partying, going to the beach, and sailing between its numerous islands. While those can be lovely things to do, Hellas is much more than that: its rich history, delicious food, and robust wines are also highly attractive for travelers.
In Greece, just like in other Mediterranean countries, the 'holy trinity' is at the base of all local foods: wheat, olive oil, and wine. On top of this, fresh meat, fish, and vegetables complete the rich and flavorful ingredients.
Seasonality plays an important part in Greek cuisine, too. The classic Greek salad (Horiatiki) is best enjoyed when the tomatoes are in season; while Fassolatha (Greek beans soup) is a thick soup, ideal for the colder months. The finger foods, mezedes, vary according to the place you visit, but certain stapes can be found across the country. Dolmades (stuffed vine leaves), tzatziki (yogurt and cucumber sauce), and saganaki (fried local cheese) are delicious everywhere.
»Read more: Hungry in Greece? Delicious Foods to Try When You're Visiting!
Photo credit: Michal Osmenda via Flickr
In recent years, Spain has risen to the top of the world's best foodie destinations. The tapas culture, outstanding Mediterranean flavors, and a strong sense of regional identity have created the perfect conditions for culinary creativity.
Madrid, the country's capital, is an outstanding destination when it comes to food & wine. The numerous restaurants offer a wide variety of dishes, but the city is famous for roast suckling pig and cocido madrileño (chickpea-based stew).
Barcelona and paella go hand in hand and don't forget to check out the famous market La Boqueria. Try escalivada (smoked grilled vegetables), artichokes with clams, and whatever dish the eateries at the market might have on offer.
At a traditional bar in Seville, you can't go wrong wih a glass of fino sherry, a few olives, and a platter of ibérico ham.
»Read more: A Guide to Southern Spain & Its Delectable Traditional Dishes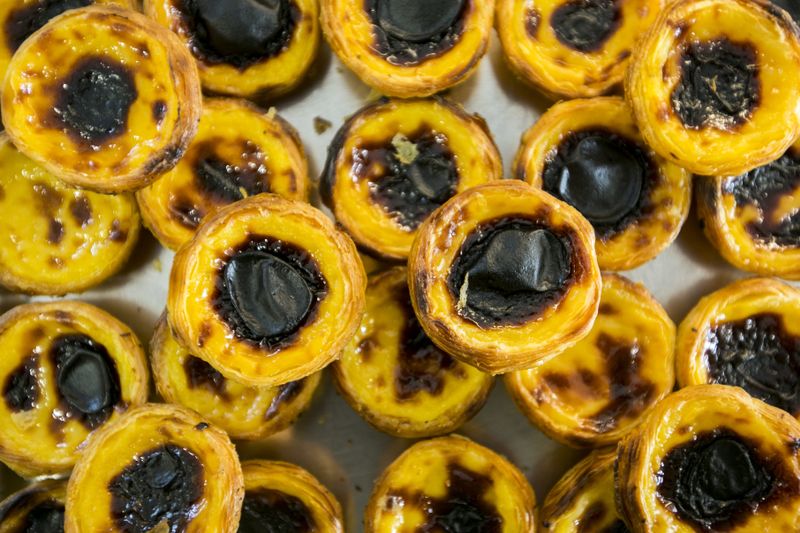 Photo credit: Culinary Backstreets LLC
Blessed with fresh seafood, an ideal climate for year-round produce, and a blend of spices and flavors from its tumultuous past, Portugal is a must-visit foodie destination.
The most iconic food ingredient is bacalhau (salted cod). It's even said that there's a cod recipe for every day of the year. You'll also find eel and octopus in dishes across Porto and Coimbra. Both are fried and served with white wine, much to the delight of our tastebuds.
Olive oil, cheese, and wine are ever-present throughout the country. And out of the many pastries made here, none is more famous than pastel de nata (egg custard tarts).
Photo credit: Halong Promotion Tours
Anthony Bourdain once said, "Vietnam grabs you and doesn't let you go. Once you love it, you love it forever".
The flavors, textures, and aromas help create a sophisticated cuisine that combines heat with cold, fiery spaces with cool seafood, thus staying true to the fundamental Asian culinary principles of yin and yang.
Especially in this part of the world, there's no better place to understand the food culture than by delving deep into the street food. Pho Noodles, xoi (sticky rice with toppings), Caphe Trung (egg coffee),
»Read more: The Vietnamese Cuisine at a Glance
Photo credit: Explore Routes
Ask most people to name Indian foods and you'll hear the word "curry" mentioned quite often. Which is not even Indian food. In India, each sauce has a different name, depending on the ingredients and type of cooking.
For others, Indian cuisine is as exotic as it gets. To ease your taste buds into the array of spices and flavors, start your journey in Mumbai and sample a Thali. It's a common meal typically eaten for lunch, which includes a wide selection of bread, rice, and cooked dishes.
While in Asia, hit the street food stalls for the best local fare. And Delhi is a great place to do so. The fried snacks, samosa and kachori, are must-sample items.
Amritsar, in the northern state of Punjab, is known aloo kulcha (stuffed potato bread), served with chhole (chickpea gravy) and paired with lassi (yogurt, water, and spices).
»Read more: Indian Spices You Need to Add to Your Spice Rack
---
Ready to discover a destination's culture through its food? Join a culinary and cultural vacation to get acquainted with the local dishes and the stories behind them.