The Craft Beer Revolution: What Exactly is it All About?
The go-to resource for choosing your dream culinary vacation. Find all you need to know about the top destinations and ways to elevate your cooking skills & knowledge.
Discover Culinary Vacations now
I just spent $32 on a single bottle of beer! Ouch!! That's a big deal for a cheapskate like me. A message from Allview Liquors in Ellicott City, Maryland led up to my purchase. It said "Founders Brewing Co. CBS is here! Extremely rare, 1 per person, first come, first serve!".
So, I headed over to my neighborhood craft beer store. During the 10 minutes that I spent at Allview, 4 people stopped in to buy CBS. The owner, Justin, mentioned that people were waiting outside for the truck to deliver CBS earlier that day.
Founders CBS is an Imperial Stout Ale, brewed with chocolate and coffee, aged in maple syrup bourbon barrels. Thirty years ago, a beer like CBS was unheard of. Back then, no one thought to make such a beer, with exotic ingredients and tastes. Even if they did, no one would drink it, let alone pay that kind of money for a single bottle. Oh, how times have changed.
Since the 1970s, America has experienced a craft beer revolution. American beer, once the laughingstock of the beer world, is now innovative, highly regarded and in demand. Or to be more specific, American craft beer is changing the beer world. Besides great beer, American craft beer is producing people like me – craft beer nerds.
To understand the craft beer enthusiast, let me tell you a little about myself. I have 2 early beer memories. My first memory was begging for sips of my dad's horrible after work beer (Ortlieb's). My second was, as an early teen, convincing my teetotaling mom to help me brew beer – resulting in exploding bottles in dad's tool shed.
Despite those early disasters, today I still love craft beer. I continue to make beer and some actually doesn't explode. On most Wednesday evenings, I get together with friends and my kids for beers at Frisco Tap House of Columbia, MD. This local pub/brewery offers over 50 delicious craft beers on tap (all far better than dear old Dad's Ortlieb's). Wednesdays are pint nights. If you drink the featured brewery's beer you can take home one of their pint glasses. Does anyone want a pint glass? I have a countless supply.
The Pint Night Crew has learned a lot about craft beer, arguing and talking about our favorite styles. We can be insufferable beer snobs. I've even considered studying to become a Cicerone, the beer version of a sommelier.
Just like pairing wine, pairing beer with food has become quite popular. In Garrett Oliver's "The Brewmaster's Table", he talks of pitting beer against wine, pairing his beers with food versus a sommelier's wine choices. Surprisingly, his beer choices often win.
Beer's broad tastes are often surprising – I like to say, there's a craft beer for everyone. Just a few examples of craft beers include dry stouts as black as night; light, crisp and effervescent pilsners; funky, grassy Saisons (some with so-called horse blanket taste); creamy milk stouts (one tastes just like a Yoo-Hoo chocolate drink); mouth puckering sours; bitter piney India Pale Ales; and fruity Belgian Lambics to name a few. The range and variety of craft beer are seemingly endless.
Craft breweries are local. As the Brewers Association states, "The majority of Americans live within 10 miles of a craft brewer." The phenomenal growth of the number of breweries is astounding. According to the Brewers Association, the US had 89 breweries in 1978 and in 2016, 5,301. We are seeing a trend reminiscent of old Germany, where every village had a brewery.
I'm taking advantage of all these local breweries - attempting to visit all 59 Maryland breweries in one year. I've experienced many brewery tours, shared countless flights (tasting samplers) and talked to tons of brewers and owners. I'm loving the craft beer revolution.
Before the Revolution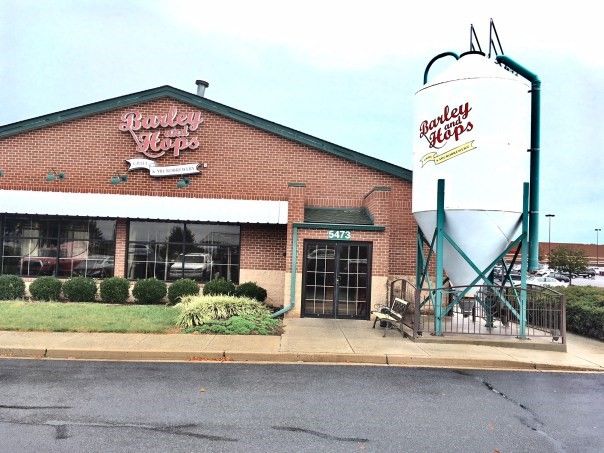 Before the craft beer revolution, a typical American beer was a lager. Lagers were originally a German beer, brewed slowly and stored or lagered in cold caves. Americans adopted their own version of a lager, producing massive amounts of this style of beer, turning a crafted product into a commodity. Noted for its crisp, clean taste, mild flavors and low alcohol, it was often referred to as a lawnmower beer – a beer to drink on a hot day to quench your thirst. These beers of barley, water, and hops (and sometimes rice) have little flavor and all taste about the same. What little taste the American lager has is masked by serving it ice cold, freezing the taste buds.
To understand the revolution, one needs to remember how bad American beer's reputation once was. American beers were the butt of many jokes. For instance:
Q: How do you turn German beer into American beer? A: Drink it.
The joke continues to this day, only directed at "Big Beer" – companies like Anheuser-Busch (AB) Inbev, MillerCoors, SABMiller, MolsonCoors, and Heineken. In Laurel, MD, a Bud Light (an AB Inbev product) tap handle sits next to the other Jailbreak Brewing beers in their taproom. The Bud Light tap is actually their water line, implying (well, you get the joke).
Despite all the jokes, big beer rules the market and light beer leads all America beer sales. Currently, Bud Light, Coors Light, and Miller Lite, in that order, are the top beer brands in sales.
Bud Light is still the most popular beer in America by far, selling more than $2 billion in 2016, although rapidly losing market share. Despite big beer's enormous status in the beer market, craft beer has slowly crept into the beer drinking marketing pie to light beer's detriment.
Image credit: brewersassociation.org
Big Beer Fights Back
Big Beer sees the inroads craft beer is having on the market and is fighting back. Their approach has many prongs. They are actually buying craft breweries, they are posting negative ads, and they are monopolizing the market, especially at large venues.
If you can't beat them, buy them. Big Beer is devouring craft breweries at a rapid pace.
You may be surprised to learn that Goose Island, Breckenridge, Blue Point, Shock Top and Wicked Weed are all owned by AB Inbev, while Lagunitas is owned by Heineken, and MillerCoors owns Leinenkugel, Blue Moon, and Terrapin to name a few. Indeed, customers are so confused that the Brewers Association has an official craft beer label to identify craft beer over big beer. That logo is an image of an upside-down beer with the words "Independent Craft".
Ironically, big beer runs anti-craft ads while they are buying craft breweries. The reigning king of beer, Bud Light, has run a few gems that mock beers with unusual ingredients or non-standard styles. You may have seen Budweiser's hypocritical anti-craft commercial during the Super Bowl XLIX, Brewed the Hard Way. It states that their beer is "proudly a macro beer" and "Let them sip their pumpkin peach ale, we'll be brewing us some golden suds."
Big Beer's most effective tool is to simply crowd out the competition. Trying to find a craft beer at any large venue is nearly impossible. In my local Baltimore region, Big Beer dominates in Raven's Stadium, Oriole Park, Merriwether Post Pavilion and just about any large entertainment facility. As the lottery motto says, "You have to play to win." Often, craft beer is discovering the game is locked and Big Beer has swallowed the key.
Experience the Revolution
While Big Beer struggles to maintain their market share, the craft beer revolution continues. I urge you to experience the revolution – visit a brewery, stop by a local taphouse or buy a few beers from a local craft beer store. If you travel, check out the local beer scene and be sure to bring back some for your friends!
For an easy craft beer party, invite your friends over and ask them all to bring their favorite beer. Or for an interesting spin, pick a beer theme for everyone to bring, then serve it in a blind tasting.
Final Notes
To sum up, my recommendation is simple. Ask questions. Look for craft beer when you travel. Get out and experience the revolution. Last but not least. remember, there's a beer for everyone. Cheers!
---
Want to experience the craft beer revolution first hand? Sign yourself up for a delectable culinary retreat in the USA! Head on over to BookCulinaryVacations.com, for a great selection to choose from.