Christmas Traditions: Mouthwatering Food from all over the World
The go-to resource for choosing your dream culinary vacation. Find all you need to know about the top destinations and ways to elevate your cooking skills & knowledge.
Discover Culinary Vacations now
All over the world, Christmas traditions of a country often reflect its culture. While there are similarities between countries located within the same region, there's always something unique to each destination and this usually includes food.
In this article, let us take you on a world tour of interesting and mouthwatering Christmas traditions.
And we also include a bonus gift for everyone: ways to say "Merry Christmas" in eight languages. Learn them by heart and dazzle your friends and family with your new language skills this holiday season!
Photo credit: Emily Carlin via Flickr
In Crete, you'd be interested to know that the Christmas holiday lasts for 12 days, ending on Epiphany (January 6th). The fasting period starts 40 days before Christmas when the faithful would not eat any animal products. Christmas cookies are baked and they are used to break the fast on Christmas Day.
Christmas traditions in Crete revolve around the Christmas hog, which is sacrificed on Christmas Eve is used to make sausages, apakia (smoked meat), pihti (a gelatinous mass with pieces of meat in it), siglina (meat fried in lard), omathies (the intestines stuffed with rice, raisins and liver), and tsigarithes (cooked lard). But these are made to be stored for later, too, although pork dishes are eaten on Christmas Day. The Greek Christmas Bread and kourambiedes are also staples.
Children go caroling from house to house and receive gifts (holiday sweets, pastries, and money).
»Read more: Why You Should Go on a Culinary Vacation in Greece
Australia
Christmas Day actually falls during the summer season "down under" so it's not a surprise that the locals love to take their celebrations outdoors.
The festivities start in late November with schools and churches presenting Nativity plays. On Christmas Eve, families go to church together. It's also when children expect gifts either from Father Christmas or Santa Claus. On Christmas morning they open the presents.
The traditional Christmas morning meal is ham and eggs.
Because Australia is such a mash of cultures, the Christmas "midday dinner" takes many forms. It can be the traditional British Christmas dinner of roast turkey, or people have a "barbie" in the yard. Some go to a picnic and have turkey and a salad.
» Read more: A Guide to Traditional Australian Dishes
The Christmas celebrations begin on the first Sunday of Advent (four Sundays before Christmas). A nativity scene, called presepe, is set up on the first day of novena (which starts 9 days before Christmas). Some families put up Christmas trees and go to the Christmas market to buy ornaments and gifts.
On Christmas Eve, when the first star appears on the ski, children light candles in the windows, to light the way for Child Christ. For dinner, the meal is meat-free and centered around fish or any type of seafood, vegetables, and salad.
Christmas Day is spent at the church, with the family, and feasting. Children may get presents from either Baby Jesus or Father Christmas (Babbo Natale). Dinner includes roast meat and panettone.
Children go caroling during novena and receive coins as gifts.
» Read more: Why You Should Go on a Culinary Vacation in Italy
Photo Credit: Flickr
Ethiopia is one of the oldest nations in Africa and follows the Orthodox Julian calendar. Christmas is thus celebrated on January 7th.
Christ's birth is called Ganna and on the day before (Christmas Eve) people fast all day. On Christmas Day, at dawn, people dress in white and go to the early mass at 4 in the morning.
Men and boys play a game called ganna which resembles hockey and it is said to have been played by the shepherds who were tending their sheep on the night that Jesus was born.
The traditional Christmas food is wat, a spicy stew made with meat and vegetables, which is served on injera (flat sourdough bread).
If you are looking to experience a truly unique Christmas, spending time at a culinary holiday in Ethiopia during the holidays is one of the best ways to do so!
Photo credit: Kressl
The Christmas celebrations start early in Hungary. Mikulas, the Hungarian version of Saint Nicholas, visits the home of Hungarian children on the night of December 5th, the eve of Saint Nicholas Feast Day (December 6). Children clean their boots and place them by the window so that Mikulas can fill them with gifts.
The Christmas tree is decorated on December 24th (Christmas Eve) and it's followed by the traditional Christmas Eve Dinner. In some parts of Hungary, a fish soup (halászlé) is served at this meal. The rest of the day is a fast day. On the same evening, Little Baby Jesus delivers the presents. A special moment is represented by the "playing Bethlehem", an acting performance which includes telling stories about the shepherds, Mary, Joseph and the birth of the Holy Child. The actors go from home to home and receive gifts.
Photo credit Cris Puscas
There are many Christmas traditions in Romania and they are slightly different in each region. Christmas Day is the second most important religious holiday (after Easter) in the country. The tree is decorated on December 24th and in the evening Father Christmas (Moş Crăciun) delivers the presents.
The food of choice is pork, which is sacrificed on Ignat (December 20th). It takes many forms, from sausages, to being present in stuffed cabbage rolls (sarmale), or as a main dish for the second course. Babka (cozonac) is a traditional desert.
Traditionally, carols can be sung once the lent starts on November 15 so children have a lot of time to practice. On Christmas Eve, carolers get together and go from home to home to spread the word about the Holy Child's birth. They receive gifts (walnuts, apples, and money). In some parts of the country, the Star (Steaua) is present in the carolers party.
»Read more: Romanian Cuisine - Traditional Romanian Dishes to Add to Your Food Bucket List
Ukraine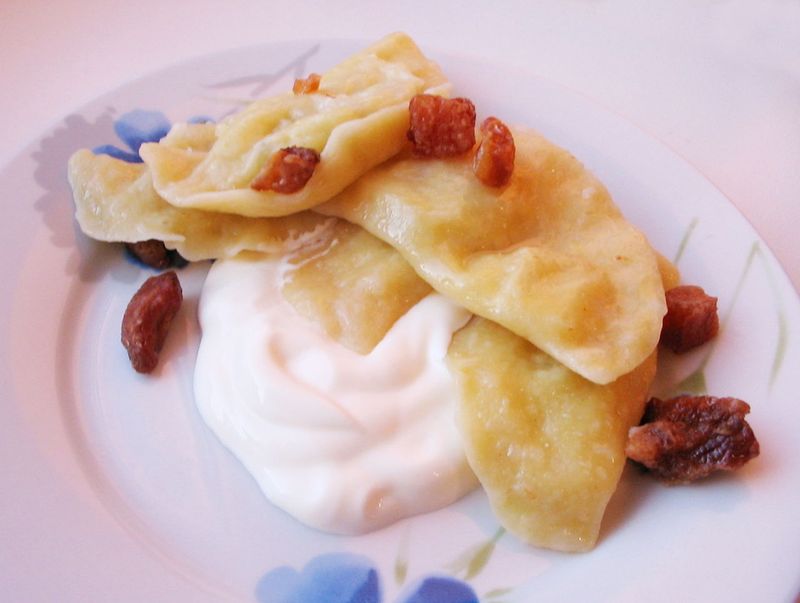 Photo credit: Kagor
The Christmas traditions in Ukraine are centered around the Holly Supper (Sviata Vecheria). In most Ukrainian homes this takes place on January 6th (Christmas Eve), as the country is using the Julian calendar. In some parts of the country, due to a mix of cultures, Christmas may be celebrated twice (December 25th and January 7th).
The Holly Supper can begin when children see the first star in the sky. It symbolizes the trek of the Three Wise Men. A prayer is said and the father says the traditional Christmas greeting, "Christ is born!" (Chrystos rodyvsya!) The family answers with "Let us glorify Him!" (Slavite Yoho). Traditional dishes include soups, dumplings with various fillings, and doughnuts with jam.
Christmas Day starts at church and there aren't any special traditions around the meals on this day.
Traditionally, gifts were received by children on Saint Nicholas Day (December 19). But in recent years, Father Frost brings the gifts on Christmas Day.
Caroling is an old tradition in Ukraine and is still kept alive by the group of youngsters who go from home to home to spread the word of Christ's birth.
Photo credit: Tamorlan
The Mexican celebration of Christmas is called las posadas and starts on December 19. The last day is Christmas Eve (Buena Noche). Children lead a procession to the church and place a figure of Child Christ in the nativity scene (nacimiento). After this, everyone attends Christmas mass. The mass is followed by a display of fireworks and the church bells ringing.
Children receive gifts from Santa Claus on Christmas Eve but traditionally, the Three Wise Men fill the children's shoes with candies, fruits, and sugar cane. Also for children, the piñata party during the first eight days of las posada is every exciting. The piñata is filled with candy and fruit and is hung from the ceiling. Children are blindfolded, spun around, and are given a big stick to shatter the piñata to pieces.
Christmas Day is spent at the church and with the family. The traditional food served during the celebration includes Christmas bacalao (a dish featuring dried cod), roast turkey, and apple salad.
»Read more: 7 of the Most Mouthwatering Tacos in Mexico You Simply Can't Miss Out On
---
Want to learn how to make these mouthwatering traditional dishes from the comfort of your home? Join an online cooking course and learn to whip up tasty dishes in no time.