The Caribbean Travel Tips: 10 Ways to Live & Eat Like a Local
We're expert culinary travellers and we love helping you. BookCulinaryVacations is the largest culinary travel website with 1114 unique listings in 267 destinations around the world.
Discover Culinary Vacations now
The Caribbean region has always been described as a tropical paradise. Hence it's no surprise that tourist arrivals have grown by 35 percent between 2006 and 2016. And as more developments are made to further accommodate the regular onslaught of holidaymakers, the percentage is expected to increase.
It is important to note, however, that the gorgeous natural wonders of the Caribbean are not the only reason why people are drawn to it. The colorful personality of the locals is a strong attractive quality as well. The Caribbean cuisine, on the other hand, has gained fame for being bold and unexpectedly addicting. And the local culture? Fascinating!
This leaves very little to wonder why many people decide to relocate here permanently. Some to retire, while others to simply start anew. A rising number of high-net individuals and those who are interested in a profitable, stress-free lifestyle are also now opting to obtain a second citizenship in the Caribbean. One of the most popular pathways to do so is through an Antigua and Barbuda citizenship by investment, which offers numerous perks including tax advantages, visa-free travel, and even a resale option.
That said, even if you're not thinking of making the Caribbean your second home or applying for a second citizenship in a Caribbean nation, if you are planning to travel to the Caribbean in the near future, I would highly suggest gaining cultural knowledge so that you will be able to get the most out of your visit.
To help you, here are my personal tips on how to eat and live like a local in the Caribbean:
1. Dress colorfully and casually
Image credit: Ncl.com
Color and comfort – these make the perfect fashion pairing in the Caribbean. Do not be afraid to experiment with bright hues and patterns like African-inspired clothing because they are always on trend from Antigua and Barbuda to the United States Virgin Islands.
Kindly note that should you intend to go to church or government buildings during your stay, make sure to dress in your Sunday best!
2. Learn the lingo
Dutch, English, French, and Spanish are the dominant languages in the region. But even those have evolved over the years to create a new lingo that is unique to the Caribbean. If you want to gain acceptance and lots of new friends, better learn the lingo. You will automatically see a difference in the way people treat you. Locals are friendlier and more open to welcoming you to their lives.
3. Learn to love fish
Image credit: Caribbeanfood.com
With easy access to the water, fish is definitely a household specialty and prepare to be served plenty of it during a Caribbean food tour. This is the reason why even restaurants offer a vast selection of fish dishes. But if you are not keen on fish with bones, most other options are also from the sea, such as conch, and other shellfish.
4. Get used to spices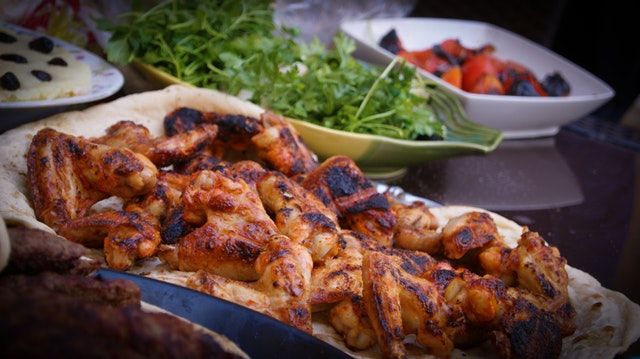 Not all local dishes are spicy but it is safe to say that the majority are. Also, when the locals say that something is moderately spicy, it's probably better not take their word for it.
Learn from world-famous traveling chefs such as the late great Anthony Bourdain as well as Andrew Zimmern whose taste buds burned by "moderately" spicy local fare. Make sure to eat a meal with a tall glass of water or cola with lots of ice, or see first if there's a garden hose attached to a tap nearby. Kidding, of course.
5. Forget about your fancy shoes
You will find most types of fancy footwear simply unnecessary once you move to the Caribbean. Pumps are usually only used for church. If you wish to go anywhere else, flip-flops, sandals, and sneakers are the things to wear.
6. Don't be such a stickler for time
Caribbean folks are not lazy. They just prefer to take their time. After all, a new day always comes. If you are coming from a country where time is honored like spiritual virtues, the laid-back pace of life here may prove to be difficult to get used to. But, just think about the extra time people take to get to work or to a meeting with you as an opportunity for you to kick back and relax.
The idea here is you do not necessarily have to change your punctual ways. However, you need to be more tolerant of locals who have no propensity to rush for anything.
7. Know that simple living is the best kind of living
If you live in a tropical nation where it is hot and humid, you will find that a smaller house is the logical choice for a dwelling. It is easier to clean and maintain overall. Also, it cools much faster with the help of a small air conditioning unit.
8. Get your food-to-go from small roadside cantinas
These family-owned dining establishments not only offer affordable fare but they also boast the tastiest meals. Most of the ingredients used by these cantinas are homegrown or bred. Home-style country cooking is simply the best on days when you just cannot take the heat of your own kitchen.
9. Learn to make one-pot meals
Image credit: Alicaspepperpot.com
You can make many Caribbean meals in huge batches to last you for days. These have everything you need so you do not really need to prepare other dishes until you have consumed everything in the pot, or had a few friends over to share the one-pot meal with.
Some one-pot meals you can try whipping up include Jamaican pepperpot stew, stewed lentils, and seasoned rice with ackee and saltfish.
10. Treat the community as your family
Image credit: Damajority.com
During your stay in the Caribbean for however long it is, I highly recommend to think of and treat the locals as your family. They will look after you and you have to look after them as well. That's just the way it goes in the friendly and warm hospitality of the Caribbean.
In a nutshell, it really doesn't take much effort to successfully assimilate into Caribbean society. Life is chill. If you have respect for others and you find joy in the simple things, you will easily gain acceptance and feel right at home.
---
Learn how you can cook and eat like the locals firsthand by going on a culinary vacation in the Caribbean!