10 Cheap & Easy Breakfast Recipes for Those Who Are Always on the Go
The go-to resource for choosing your dream culinary vacation. Find all you need to know about the top destinations and ways to elevate your cooking skills & knowledge.
Discover Culinary Vacations now
Let's face it, most of us have had mornings where we find ourselves running against time and can only manage to grab a handful of cereal as we rush our way out of the door. When you have a full plate of tasks & responsibilities, truth be told, this can easily be something that you face every (working) day.
If this is the case for you, know that you don't have to settle for a morning full of a sugar rush that will result in you feeling hungry and depleted just mere hours later. You can take charge of your mornings and maintain a healthy diet despite being always on the run.
Below are 10 breakfast recipes that are both cheap and easy (and not to mention delicious) to make for those who are constantly on the go:
1. Berries & Yogurt Smoothie
This is both a delicious as well as simple smoothie that will help you get through the morning rush in a healthy manner. It is easy to make and is thus one of the best choices for students, especially with tight lecture and exam schedules, where enough calorie levels (of which the smoothie is rich in) are needed to get through the day.
All you have to do is blend frozen fruits such as berries and bananas with Greek yogurt. This should be done in combination with any liquid of your choice like juice, milk or even coconut water if you'd like! This mixture should then be frozen overnight and left to thaw through the entire day. You can enjoy it the following morning as you rush out the door.
2. Savory Oatmeal with Poached Egg
For those who are used to whipping up quick breakfasts, oatmeal would not exactly be a foreign option. However, it is possible to have a different experience with oatmeal by making it a savory meal rather than sweet.
Begin with the usual oatmeal preparations (adding water or milk), but this time, add pepper and a pinch of salt rather than adding sugar or cinnamon. After you've done this, you could top it up with a poached egg then sprinkle some little cheese to give you a tasty extra kick.
3. Quinoa Fruit Salad
Image credit: Gogoquinoa.com
While it's usually enjoyed for lunch and/or dinner, one of the easiest to make breakfasts are salads. They are not only easy to make but also jam-packed with necessary nutrients for your body.
An example of an ideal breakfast salad is a Quinoa fruit salad. In order to whip one up, you will require a plain fruit cup which you will then spice up using a quinoa scoop. This should be followed by tossing the mixture around until the quinoa has been evenly distributed. For the icing on the cake, add a splash of dressing consisting of lime, basil, and honey to give it that extra flavor.
4. Crock-Pot Egg Casserole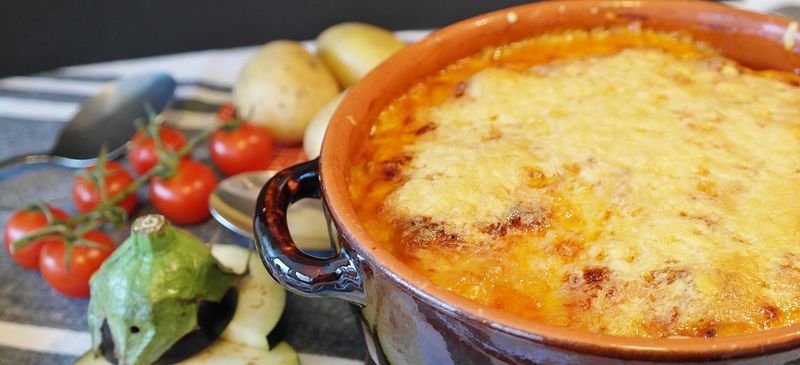 With a slow cooker at hand, you can wake up to a house full of the scent of sausages and have a mouthwatering, quick breakfast. Start the casserole by layering the sausage, vegetables and the cheese into your crock-pot and top with a cream and eggs mixture.
Once you do this, hit the hay knowing that by the time you wake up in the morning, your decadent breakfast will be ready to be served!
5. Macadamia Ricotta with Tomato Toast
Sandwiches are also among the favorite "go-to" breakfast choices for people who are always on the go. The Macadamia Ricotta with Tomato Toast sandwich is one of the best options for a healthy, Italian cuisine inspired start to your day.
To make it, you need a whole grain bread. Take two slices and spread a tablespoon of macadamia nuts and homemade ricotta cheese on each. Follow this up by sprinkling basil of shiso, fresh and cracked pepper and finally some kosher salt. Add to it some hearty slices of fresh heirloom tomatoes and Buon appetito! Your breakfast is ready to be savored.
6. Warm Fruit Bowl
For those who crave desserts for breakfast, this option is a perfect quick breakfast that will meet your needs. You simply need to blend cups of berries, bake them in an oven, sprinkle them with shavings of dark chocolate and finalize by adding a cupful of milk.
7. Egg Breakfast Muffins
Who wouldn't want to have a delicious muffin on hand when they're in a race against time and don't have time to sit down for breakfast? This egg breakfast muffin is a great alternative to store-bought sugar packed muffins and, like everything on this list, they are super easy to make!
Begin by blending or whisking eggs with bacon, cheese, and spinach. This mixture should then be poured into the muffin tins and then baked for around 15 to 20 minutes. You should then serve and store the rest for later consumption as a quick meal when you're on the run.
8. Chocolate Quinoa Breakfast Bowl
For those who prefer something sweet in the morning, this recipe 'allows' you to enjoy chocolate in a healthy manner!
All it takes is a bowlful of quinoa mixed with crushed dark chocolate (the higher the cocoa content, the better) and sprinkled with hearty slices of berries and bananas on top. It is so scrumptious that you won't believe it's actually healthy! But alas – it is indeed. Quinoa is a great source of protein, while the berries and bananas are good vitamin sources. And, to top it all off, dark chocolate is packed with antioxidants!
Consider yourself a chocolate lover? Why not learn to make chocolate from scratch? One thing is for sure – your taste buds will forever be grateful.
9. Zucchini Bread Oatmeal
This is a quick breakfast meal that can be prepared by turning a baked loaf into oatmeal. The recipe involves adding some shredded zucchini in order to fit in some veggies to it. You should then throw in some toasted walnuts to get that added crunch.
​​10. Egg & Cheese Sandwich
Image credit: Breanna's recipe box
In need of a wholesome breakfast that can 'double' as lunch during those particularly hectic days? If you're in need of an especially hearty meal that will energize you for hours as you focus on that history essay that you need to finish, you'll love this recipe that takes the conventional egg sandwich to a whole new level!
Start by tossing arugula with some lemon juice and olive oil prior to frying your eggs with a dash of pepper and salt. You should then place the mix on a whole wheat toast that's already been layered using Ricotta and Parmigiano-Regianno cheese. Wrap it all in some foil and feel free to enjoy half for breakfast and the rest when lunch time comes around!
---
Been wanting to sharpen your cooking skills? There's no better way to do so than to sign up for a culinary vacation! Not only will you prepare and enjoy plenty of delicious recipes, you'll get to do so with other food lovers from all over the globe!