Hungry in Greece? Delicious Foods to Try When You're Visiting!
The go-to resource for choosing your dream culinary vacation. Find all you need to know about the top destinations and ways to elevate your cooking skills & knowledge.
Discover Culinary Vacations now
Contemporary Greek cuisine makes use mostly of vegetables, olive oil, fish, grains, and some meat. Rabbit and beef are popular occurrences, while pork is not used as much. The local cheeses and olives also make up a big part of the diet, as well as yogurt, greens (horta), and herbs (oregano, rosemary).
The cuisine in Greece varies from region to region, and island to island.
In the country's capital, Athens, locals usually skip breakfast, or the "standard" breakfast is usually coffee and a cigarette. But stay on the islands and you'll wake up to yogurt served with honey and accompanied by coffee.
All over the country, lunch is also not treated as a big deal, and dinners are regarded as the day's main meal and are often enjoyed with family and friends.
If you happen to visit Greece, we are sharing with you a list of delicious foods to try while enjoying your trip to this magnificent country. May they inspire you to plan a scrumptious food tour in this stunning Mediterranean destination!
Note: BookCulinaryVacations offers a flexible cancellation policy. Should you not be able to travel as scheduled, we'd be happy to help you alter your booking with the same organizer or a different organizer.
Traveling to Greece in 2021
On May 14, 2021, Greece opened its borders to international travelers.
All travelers to Greece, aged 12 and older, are required to have either a negative PCR certificate from a testing laboratory, for a Covid-19 test taken no later than 72 hours before arrival or a negative antigen (rapid) certificate taken no longer than 48 hours before arrival.
Children under the age of 12 are not required to undergo a PCR test.
Travelers who can show proof of being fully vaccinated (14 days after the last vaccination, depending on the vaccine used) are exempt from showing a negative test.
Also, if travelers can show proof that they tested positive for the virus and recovered in the past 30 to 180 days, they don't need to show a negative test.
All passengers must fill a Passenger Locator Form (PLF) no later than 23:59 EEST (Greek time) (11.59 PM) of the day before arriving in Greece.
During their stay in Greece, all travelers are required to abide by the local laws.
Greece's Most Iconic Dishes
Koulouri bread
Photo credit: Cris Puscas
The equivalent of the New York bagel, the Koulouri bread can easily be found all over Athens. They are eaten before going to work, on lunch break, or even after work, on the way home. While there are various versions of it, in its simplest form, the bagel is covered with sesame seeds. And yes, a cup of frappe usually accompanies the snack.
Koulouri has ancient origins and they have come to Athens by way of Thessaloniki. The word itself is linked to "kollyra", the round bread served to the slaves.
Horiatiki
Photo credit: Cris Puscas
The traditional Greek salad, Horiatiki is a dish well known all over the world.
But did you know that this is a dish that originated in Athens' Plaka neighborhood back in the 1960s-70s? Back then, the prices for simple salads were set by the government. To charge tourists more, the taverna owners added a slab of feta on top of a simple salad.
Horiatiki consists of tomatoes, cucumbers, green bell peppers, red onions, Kalamata olives, feta, olive oil, and a sprinkle of oregano. You can order it as part of a shared meal of mezedes (appetizers). Or as a side dish along with an order of fresh grilled fish, for example.
If you want to eat the traditional version, make sure to stay away from places that add lettuce to it. There's a Feta slab on top (the cheese is not cubed); and if you are visiting an island, you'll most often be able to either opt for a local cheese or a combination of Feta and a local cheese.
Moussaka
Photo credit: Cris Puscas
It is believed that the Arabs introduced moussaka to the world when they introduced the eggplant. Back in the 13th century, a food historian found a recipe in an Arabic cookbook known as the Baghdad Cookery Book, that may as well be the ancestor of moussaka.
In 1910, a famous Greek chef Nikolas Tselementes, published a cookbook featuring French bechamel sauce on top of the moussaka. This is the version still enjoyed today.
The bottom layer of the dish consists of sliced eggplant sautéed in olive oil; the middle layer is the ground meat – usually beef or lamb - lightly cooked with tomatoes, onion, garlic, and spices; the top layer is the béchamel sauce. The dish is typically served warm.
And yes, there are also Lent versions of this dish, that include potatoes and mushrooms.
The dish is cooked all over the Levant, the Middle East, and the Balkans, but of course, each country has its own variety.
Tzatziki
Photo credit: Cris Puscas
Tzatziki came to life when the Ottoman Empire ruled over Greece. At that time, it was mandatory to give Turkish names to all dishes. But tzatziki is Greek and it's the dish that made the local yogurt famous.
The classic yogurt dip, tzatziki can usually be found in the "mezedes" part of any taverna's menu. It's a thick dip in which the yogurt and the grated cucumbers are both strained overnight before they come together with garlic, salt, mint, wine vinegar, olive oil, sea salt, and a pinch of oregano.
It is a great meze to order by itself, but you can also pair it with meat, whether in a gyro or a calamari platter.
Did you know that more garlic is used in Greece to make tzatziki than any other dish?
Olives
Greeks have been cultivating olives since ancient times.
One of the local varieties is Kalamata, named after the city in southern Peloponnese.
They are often used as table olives and are preserved in either wine vinegar or olive oil.
Another great table olive is Halkidiki, grown and harvested exclusively in northern Greece on the Halkidiki Peninsula. This is a pale green olive, with a meaty bite.
You'll be able to enjoy Greek olives as part of the appetizers spread or in various dishes, including Horiatiki (the classic Greek salad).
Spanakopita
Photo credit: Alpha via Flickr
Greeks have been eating pitas (pies) since ancient times. During Byzantine time, both spinach and phyllo made their way to Greece and made it possible to create one of the most well-known Greek pitas: Spanakopita.
Some of the most famous versions of the Spanakopita (spinach pie) come from the northwestern region of Epirus.
This is yet another filling meze. The traditional filling comprises feta, spinach, onions, egg, and seasoning. It is layered onto filo pastry and then baked to perfection.
There is even a Lent (vegan) version that excludes cheese and eggs. In this version, other green herbs are added into the mix, such as dill or parsley.
You can also find spanakopita served as a snack in a calzone-like shape.
Saganaki
Fried cheese or saganaki is a dish best enjoyed warm – exactly when it comes to the table – and as part of the shared mezedes (or mezes).
Saganaki means "little frying pan", so it's not a type of cheese. But to obtain the perfect saganaki, only a handful of cheese are used, and they include kasseri, graviera, and even Feta.
This dish is perfectly cooked, when the cheese has a crisp golden crust, while the interior remains soft and slightly melted.
Wonder what 'Halloumi' is? It's the Cypriot version of saganaki and squeaks when you chew it.
Dolmades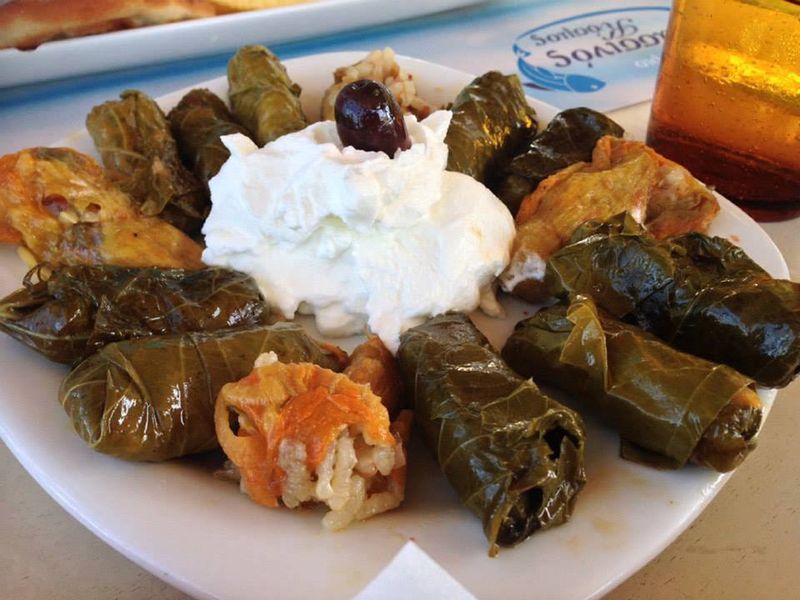 Photo credit: Porto Club Travel Services
Dolma is a Persian food, translating to "stuffed vegetable".
It is believed that originally, Greeks and Persons made dolma from vine leaves, stuffed with fruits, nuts, meats, and rice. When the Turks took over Constantinople (today's Istanbul), they fell in love with dolma and stuffed peppers became a delicacy in the Empire.
Today, the Greek dolmades feature both versions with meat and Lent versions (vegan). The meat version includes rice, minced meat, onions, and various herbs such as dill or parsley. The meat-free versions may include raisins or currants, pine nuts, onion, olive oil, and sometimes pulses.
Once the vines leaves are wrapped, they are cooked slowly to perfection. They may be served both cold and hot, sometimes accompanied by tzatziki or a lemony sauce.
Greek stuffed zucchini blossoms
Photo credit: Cris Puscas
The stuffed zucchini blossoms come with different fillings depending on where you try them. They can be stuffed with a mixture of feta and herbs, or with rice. There's plenty of delicious Lent friendly varieties – which do not contain cheese nor meat – but there are also recipes which include meat on offer. The meatless versions are served at room temperature.
Loukoumades
Photo credit: Cris Puscas
The Greek honey balls are commonly spiced with honey and cinnamon. The puffy dough is deep fried and the golden balls are served piping hot. You would be interested to know that in ancient times, they were given as prizes to the winners of the Olympic games. Nowadays, they are a very popular dessert and one of those foods that need to make your bucket list.
Yogurt and honey
Photo credit: Cris Puscas
On the islands, this is your typical Greek breakfast: yogurt and local honey, together with the Greek coffee, of course. But the dish also morphs into dessert, often offered on the house.
And no, there is no such thing as "Greek yogurt". The yogurt in Greece is thick, creamy, and made from a combination of sheep's and goat's milk.
Featured photo credit: Villa Spiros
---
Hungry for more? Why not book a Mediterranean cuisine food tour and you'll be able to not only enjoy the delectable local dishes but also learn how to make them!