A Foodie's Guide to the Ultimate Dishes in Singapore
We're expert culinary travellers and we love helping you. BookCulinaryVacations is the largest culinary travel website with 1114 unique listings in 267 destinations around the world.
Discover Culinary Vacations now
When in Singapore, eat as a Singaporean does! Of course, we have to admit that we just made up this phrase. Guilty as charged. But who wouldn't want to eat as a Singaporean does? Food is so deeply rooted in Singaporean culture that they often greet each other with 'Ni chi le ma?', which translates into 'Have you eaten yet?'
In a place that holds food at such a pedestal, it would be a shame to miss out on trying anything food-related in Singapore. The awesomesauce people that we are, we have put together a list of the breakfast-lunch-dinner food experiences you simply must have! Added to that are the desserts you must seek out on your gastronomic voyage.
Oh, wait. Haven't you had the chance to actually plan this vacation? Don't worry – get your Singapore Vacation planned in under 10 mins!
FOR BREAKFAST
Wonton / Beef brisket noodles
Image credit: chowhound.com
Begin with a hearty breakfast. This wonton noodles recipe is a combination of barbecued pork (also called char siew), noodles dressed with a plain-colored chili sauce, and lard. It is topped with freshly cooked wontons filled with prawns and minced meat. The beef brisket noodles, on the other hand, consists of beef and tendon – tender on the brink of melting – in a thick, anise-flavored gravy.
Where: Crystal Jade Kitchens, Bencoolen Street, Singapore
Kaya toast, soft-boiled eggs & kopi
Image credit: seriouseats.com
If you want to go Singaporean-all-the-way even for your breakfast, we strongly recommend you opt for the Kaya toast combination. A kopi (coffee) and a piece of toast accompanied by soft-boiled eggs make up the Kaya toast combination. Be prepared for a rough, custard-like texture when you dig into the Kaya toast, and then an explosion of flavors as you dig into the soft-boiled eggs while taking a sip of the kopi. The egg is poached in a way that the egg white comes out all velvety, and the egg yolk is creamy and runny.
Where: Killiney Kopitiam, 80 Airport Blvd, Singapore and Ya Kun Kaya Toast, Orchard Central, Singapore serve this up. Tong Ah Eating House roast their own coffee beans and make their own Kaya.
Nasi Lemak
Image credit: creatorandcurator.com
If a hearty and carb-filled breakfast is your thing, Nasi Lemak is the way to go. It's everything you need for breakfast. Nasi Lemak is a fluffy rice cooked in coconut milk. With a persistent hint of ginger and lemongrass, Nasi Lemak is then introduced to stir-fried sambal – a hot sauce made of chili peppers, fish sauce, shrimp paste, garlic, ginger, and shallots.
Served with an omelet on the top and accompanied with either ikan kuning or fish cake, Nasi Lemak is the entire brekkie package. Carbs and proteins – it has them both. You are now all set to get Singapore exploring, traveler!
Where: Power Nasi Lemak, Sinaran Drive, Singapore; Ponggol Nasi Lemak, Upper Serangoon Road, Singapore; Bali Nasi Lemak Fastfood Shop, 15 Geylang, Singapore.
LUNCH IN SINGAPORE
Hokkien Mee
Image credit: angsarap.com
This dish consists of egg and rice noodles simmered in a fragrant stock of fresh shrimp, dried prawns, squid, pork or chicken. It is then garnished with fish cake, leafy greens, pork ribs, squid, deep-fried shallots, spring onions, and fresh lime. Nowadays, soy sauce and bean sprouts flavor the Hokkien Mee too.
The entire mixture is then fried till damp – the stock's essence and the subtle seasoning of garnishings then compliment the al dente cooked noodles. While being served, the noodles are topped with sliced rice chili, and the trusty sambal – dig in for a layered taste experience.
This dish is interpreted differently in Malaysia. There, it goes by the name Hokkien fried mee.
Where: Xie Kee Hokkien Mee, Upper Bukit Timah Road, Singapore; Yang Zhou Hokkien Mee, Bukit Merah lane, Singapore; Kims Fried Hokkien Prawn Mee, Jalan Eunos, Singapore.
Laksa
Image credit: recipeshubs.com
Laksa is essentially a spicy noodle soup – its origins lie in the Peranakan culture. Laksa is either made of rice noodles or rice vermicelli, with a healthy serving of chicken, prawn or fish. The word laksa in Chinese literally translates into 'spicy sand.'
Laksa has different interpretations you can try. Since the flavor originates from the soup, with a little tweak you will have a different type of laksa! The most well-known is curry laksa – a coconut milk curry soup with noodles, it is both rich and savory. The Asam laksa, based on tamarind, tastes sour and fresh.
The noodles incorporated are of different types too! From thick rice noodles to the Johor laksa that employs spaghetti!
Where: 328 Katong Laksa, East Coast Road, Singapore; Jangutt Laksa, Queensway Shopping Centre, Singapore; 928 Yishun Laksa, Yishun Central, Singapore.
Yong tau foo
Image credit: oysterdiaries.com
If you love tofu, then this one's for you! Filled with either a ground meat mixture or surimi (a white fish meat paste), Yong tau foo can be served either dry or as a soup. The dish can also contain fish balls, crab sticks, bitter lemons, cuttlefish, lettuce, ladies fingers, and chilis.
The stuffed tofu is then sliced into bite-sized pieces and cooked briefly in a steaming broth. It is then served in the broth as a soup. But for those who like their Yong tau foo dry, the broth's gravy can be extracted separately into a bowl while the stuffed tofu is heaped with minced meat and herbs and stir-fried until golden-brown.
It can be either eaten separately or next to steamed rice, noodles, or rice vermicelli.
Where: Zhen Jie Hakka Yong Dou Fu, Amoy Street Food Centre, Singapore; Poy Kee Yong Tau Foo, People's Park Complex Food Centre, Singapore.
DINNER IN SINGAPORE
Char kway teow
Image credit: nyonyacooking.com
Flat rice noodles stir-fried over intense heat with light and dark soy sauce, chil,i and a little bit of shrimp paste – appetizing, isn't it? Added to this combination of sauces are prawns, bean sprouts, chopped chives, egg, slices of fishcake, and sausage.
This stir-fried plate of heaven is also prone to a little interference from pork lard – somehow bringing together all the ingredients into a heavenly mix of tastes. Don't be perturbed when you are served this Char kway teow on a banana leaf – it is credited for enhancing the aroma on the noodles, making this tasty dish even more irresistible!
Where: Outram Fried Kway Teow, Upper Cross Street, Singapore; Katong Peter Fried Kway Teow, Tanjong Pagar Plaza, Singapore.
Ban mian
Image credit: danielfooddiary.com
If you want to go for a healthy dinner, then Ban mian is the food in Singapore you must opt for. Consisting of egg noodles immersed in soup, its flavor is attributed to the meat or fish, vegetables, and other herbs and seasonings it contains. Being based on a soup, this meal is open to numerous interpretations.
Although based on water, fish stock and anchovy stock often make it to the soup's base. Often, ingredients like onions, garlic, ginger, bean paste, and mushrooms are added to make the stock more aromatic. With the stock ready, almost any vegetable or even minced pork may be added to complete Ban mian – along with vinegar and sugar to make the taste versatile.
Once the ingredients settle against each other, an egg is cracked on top and allowed to cook until the whites set and yolk is warmed through.
Where: Eng Heng Coffee House, Bukit Batok Street, Singapore; J99 Kopitiam, Toa Payoh Central, Singapore
DESSERTS & DRINKS IN SINGAPORE
Chin chow
Image credit: herbsbeans.com
A sweet beverage, Chin chow is a drink made from grass jelly from the plant Mesona Chinensis. It is also served in the form of jelly. Due to bitter hints originating from the plant, the grass jelly is immersed in syrup and then eaten. Its color is of a brown-black hue.
Kuih / Kueh
Kuih refers to a broad category of desserts, mostly coconut based, or cakes that often contains durian or banana. Flavored by pandan leaves, it is usually made of rice or glutinous rice. As kueh refers to a broad range of desserts, here are a few of our favorite picks:
Ang koo kueh
Image credit: jixiangconfectionery.com
Also called red tortoise cake because it is molded to resemble a tortoise shell, Ang koo kueh is a small oval-shaped pastry. With a sweet-filled center, it is made of soft and sticky glutinous rice flour. Eating it is believed to promote longevity, good fortune and prosperity.
Where: Ji Xiang Confectionery, Everton Park, Singapore; Lim Lam Hong, Bukit Merah, Singapore.
Bahulu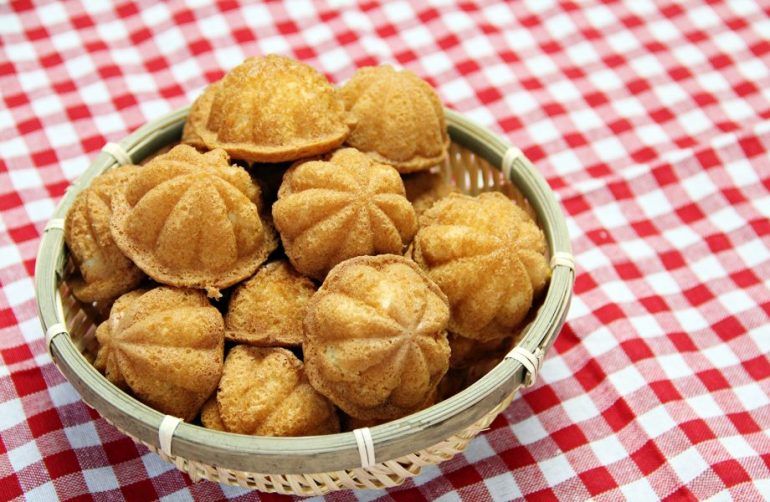 Image credit: thezonghan.com
A tiny crusty sponge cake baked and served on festive occasions, Bahulu come in distinctive shapes of buttons and goldfishes. Its origins lie as a traditional snack in Malaysia and Brunei.
Where: Bahulu Warisan, Bendemeer Road, Singapore.
Kuih gulung
Image credit: bakecookeat.com
With a palm sugar and coconut filling, Kuih gulund are mini crepes flavored and colored by the evergreen (literally) flavoring of the pandan. Pan-fried with margarine, Kuih gulung is cooked like a thick pancake, but elongated and rectangular in shape.
Where: Xiu Ji, Chinatown Complex Market, Singapore.
---
Are you fascinated with Asian cuisine? Discover more scrumptious dishes and learn how to prepare them at home on an Asian culinary vacation!