Traditional Recipe: How to Make Mouthwatering Homemade American Pie
The go-to resource for choosing your dream culinary vacation. Find all you need to know about the top destinations and ways to elevate your cooking skills & knowledge.
Discover Culinary Vacations now
If you want to feel as if you stepped back to your childhood when your grandma or mother would fill the kitchen with smells of divine, mouthwatering deliciousness, then you should try whipping up some homemade baked goods right in your very own kitchen!
These sumptuous morsels have a way of bringing a morsel of happiness into your mouth and down your throat. Cookies, brownies and pies, they are all representative of pockets full of joy on your tongue. The American pie falls into this category too! It is a favorite and must have for many. This American cuisine delicacy is filled with fruits and hits the right spot on a long winters evening.
If you are interested in learning how to produce such delicious goodness, then you are in luck! I will guide you through the American pie baking process, and soon you will be on your way to the staircases of bliss.
American Pie: The Crust
Image credit: Foodnetwork.com
The first part of the recipe calls for the making of the piecrust.
What you'll need:
120 grams of cold water
a dash of salt
1 spoonful of cider vinegar
50 grams of sugar
250 grams of butter
½ kilo of flour
How to prepare:
You will proceed in combining the solid ingredients by quickly blending them together, making sure to break apart the butter. After, pour in the liquids and stir them all together. The dough should be evenly separated into two bits. You will then place them in a cellophane bag and put them into the refrigerator.
American Pie: The Filling
Image credit: Thedailymeal.com
Once you have the pie ready, you can proceed to create the filling.
There are different fruits which you can experiment with to use in your filling, it's entirely up to you! That said, two great go-to options are apple and cherries.
What you'll need:
2 spoonfuls of lemon juice
2 spoonfuls of corn flour
80 grams of butter
vanilla extract
cinnamon
100 grams of brown sugar
How to prepare:
At this instant, you will now continue to liquify the butter. To do this, you will be using a pan on the stove. Remember to turn the gauge to low heat. Chop up the fruits into small bits and proceed to add to the pan. After which you will then combine with the vanilla, cinnamon, and sugar. This part of the process will need your constant attention. You will have to stir the fruit consistently until it caramelizes.
Once that is done, the corn flour which should have already been combined with the lemon juice should be added to the mixture. Take a few more minutes to stir and then the filling is ready to be added to the pie crust!
American Pie: The Tips
Image credit: Pinterest
The oven should be preheated at 180° C. Proceed to take some butter and grease your pie dish. Retrieve the two pieces of dough from the fridge and roll them out on your workspace.
Take one sheet of your pastry sheet and place it in your container, then pierce it using a fork. Proceed to wrap the base with a section of the greaseproof paper, and then add raw beans. Place in the oven to bake, for 15 minutes.
Retrieve the dish from the oven. Take out the beans you added previously and the grease paper. Then add the filling mixture to the dish. Afterward, cautiously wrap up the pie using the other pastry sheet, after which you then proceed to secure the two edges properly.
Using a knife cut some small slices in the crust layer of your pie. Then proceed to brush on the egg yolk, all over the top. Use brown sugar and lightly dust over the surface. Place in your oven and bake for 40 minutes.
American Pie: The Secrets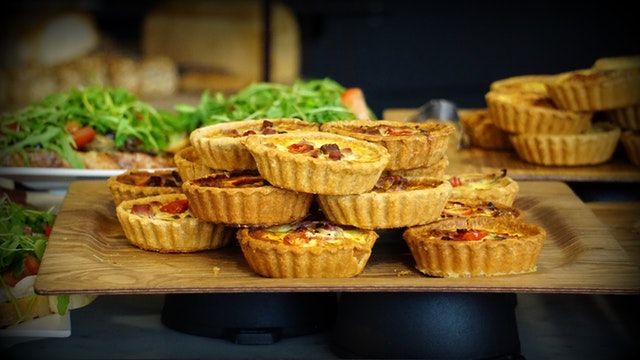 At first glance, this recipe sounds easy enough – right? Then why is it that many people end up ruining it regardless?
Thank goodness, technology is able to help us perfect this food art better, making it easier for many of us to produce an (almost) perfect American pie. For instance, a food processor can be used to stir your pastry. This is beneficial because it requires vigor to stir the mixture. You have to stir constantly, quickly, and evenly so that you can produce the desired result. If you prefer, you can certainly use your hands, but keep in mind that the use of wooden spoons is not allowed.
Another secret tip is that the colder your ingredients are the better. You can achieve this by adding some ice. This ensures that the butter is evenly distributed throughout the mix of flour. If your butter is not completely melted, do not worry about it. Let it be, and after it comes out of the over, you will have the ideal piecrust.
For your filling, do not use fruits that contain lots of water such as watermelon. You will end up with a really hard pastry or cracked edges, due to gluten formation. You do not want this to happen, it will likely to ruin your American pie.
To top of your pie, you can substitute iced vodka for the water for a unique taste! When alcohol gets in the heated oven, it will evaporate. Remember that the vodka should be 60% water and 40% alcohol.
Essentially, feel free to experiment with your pie and you will likely to love the final results even more. Happy baking!
---
Need help in cultivating or sharpening your baking skills? We highly recommend for you to go on a pastry & baking vacation! Meet and learn from other baking enthusiasts as you whip up your very own batches of scrumptious homemade baked goods!