All-inclusive Culinary Vacations Across the Globe
The go-to resource for choosing your dream culinary vacation. Find all you need to know about the top destinations and ways to elevate your cooking skills & knowledge.
Discover Culinary Vacations now
Imagine you are on a dream vacation, free to indulge, sample, taste, and experience whatever your heart desires!
All-inclusive culinary vacations cater to travelers seeking a no-fuss holiday, plenty of perks, and excellent value for the money. After all, all your meals, accommodation, cooking classes, tastings, and extra activities are bundled into a single price. Some hosts go the extra mile to also included the airport transfer. You just need to show up!
Ready to take on the cooking world without any hassle? Here, we share 10 outstanding all-inclusive cooking vacations from across the world, so that you can sit back, relax, and cook up a storm.
Note: BookCulinaryVacations offers a flexible cancellation policy. Should you not be able to travel as scheduled, we'd be happy to help you alter your booking with the same organizer or a different organizer.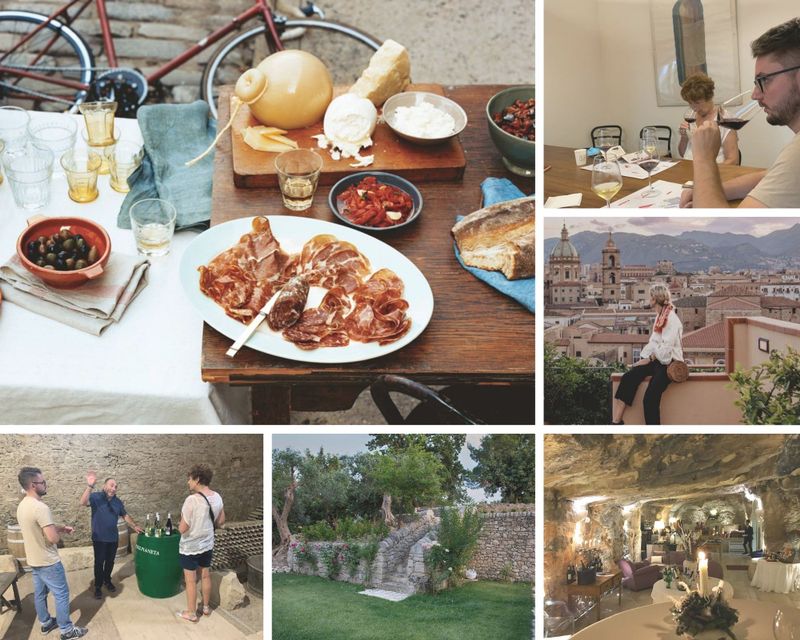 Availability: From March 2022
All meals included
Airport transfer included
This all-inclusive culinary tour in Italy is suitable for you if you are looking for more than a trip. You'll feel the spirit of true Sicily, stroll through famous baroque cities, discover the secrets of cooking Sicilian dishes and enjoy magical sunsets.
The program will allow you to live like a local on a traditional Sicilian 18th-century farm, take a master class with the famous chef David di Corato, discover the secrets of handmade organic cheese, chocolate, and olive oil at the respective farms, and visit UNESCO World Heritage Sites.
You'll enjoy the Sicilian flavors of haute cuisine in a two star Michelin restaurant, taste the famous Aperol-Spritz and discover the Sicilian street foods snacks in an authentic bar, and taste appetizing sparkling wines at the foot of Mount Etna.
You'll be staying at Villa Santa Margherita, which boasts beautiful views of the hills.
Included in the price are also excursions to Chiaramonte Gulfi, Zafferano, Catania, Ragusa, Modica, Caltagirone, Etna Volcano, and Valle dell'Acate winery.
Three meals each day, as well as drinks (water, coffee, tea, and alcoholic beverages), are also included in the package, as well as the round-trip airport shuttle (from/to Catania–Fontanarossa Airport - CTA).
»Read more: Why You Should Go on a Culinary Vacation in Italy
Availability: From February 2022 (other dates available on request)
All meals included
Airport transfer included
Have fun and join a cooking vacation in northern Tuscany. Learn the basics of Italian cooking techniques, enjoy wine tasting, and discover the traditional area of La Garfagnana.
The complex offers two apartments and 4 en-suite double rooms.
The package includes 2 cooking sessions (with wine!), wine tasting at La Mezzaluna, a visit to the medieval village of Barga, exploring a local market in Castelnuovo di Garfagnana, as well as a guided tour of Lucca. You'll also stop briefly in Pisa to admire Piazza Miracoli with the cathedral and the leaning tower.
You'll learn how to make pasta and various sauces to go with it and become an expert in pizza and focaccia.
This price also includes all meals, transfer to and from Pisa International Airport (Galileo Galilei Airport - PSA), as well as local transfers.
Availability: April to October 2022
All meals included
Airport transfer included
Immerse yourself in Greek life to discover the gastronomic delights of the beautiful island of Poros. You'll learn both about traditional and modern Greek dishes.
The chef at the school is Poros native Katerina. She will discuss the menu with you to ensure you cover the skills you want to learn. This all-inclusive culinary vacation in Greece aims to get the skills to cook fabulous Greek dishes from this region to impress the most experienced foodies back home!
The package includes four Greek cooking lessons, a seasonal Greek culinary outing, local food tasting, a visit to a local farm (olive or lemon groves, or herb farm), an evening meal at a local taverna, as well as a guided trip on the island of Hydra.
During this holiday, you'll be served daily breakfast, six lunches, and seven dinners (including one at a local taverna). The drinks are also included in the price. And so is the transfer from Athens International Airport (Eleftherios Venizelos Airport- ATH).
»Read more: Hungry in Greece? Delicious Foods to Try When You're Visiting!
Availability: all year round
All meals included
Airport transfer included
Enjoy a unique culinary experience exploring some of the undiscovered jewels and flavors of Andalusia.
Learn to cook a traditional and modern three-course meal, under the guidance of a professional chef, enjoy samples from seasonal menus, featuring organic local vegetables and herbs, and visit some incredible places in this lovely Spanish province.
This package includes two hands-on cooking classes, three guided tours - to an award-winning olive oil mill, to Cordoba, and Priego de Cordoba -, and an amazing olive oil tasting.
You'll be staying at La Finca (literally translate to "The Farmhouse"), a cooking retreat in a rural village, just outside of Iznájar. You'll be surrounded by an unspoiled landscape of rolling hills carpeted with ancient olive trees, valleys covered with almond blossoms, and fields of wild coriander.
The price includes a welcome dinner, three full breakfasts, two lunches, and two lovely dinners. The drinks are also included in the package.
The private transfer to/from either Malaga Airport (AGP) or Federico García Lorca Airport (Granada Jaén Airport - GRX) is also included.
»Read more: A Guide to Southern Spain & Its Delectable Traditional Dishes
Availability: March to November 2022
All meals included
Wine tasting
This holiday takes place in Gascony, France, an undiscovered region in Southwest France. Gascony is famed for its local produce and is one of the main producers of foie gras.
This holiday is perfect for those who want to enjoy outdoor activities, rejuvenate by the pool, and indulge in good food and wine.
During this culinary vacation, you will stay at Baron-Figués which is a part of a gorgeous 150-year old farmhouse.
The package includes a canoe trip to a lovely local village, a fun day trip to explore a city (Toulouse, Bordeaux, Saint Emilion or Lectoure), a visit to a chateau, a walk to Condom with a meal in a restaurant, a bicycle ride to a local market for coffee and croissants, a spa visit with treatment included, all meals and wine tasting at the chateau.
»Read more: Why You Should Go on a Culinary Vacation in France
Availability: all year round
Olive oil tasting
Airport transfer included
Get a chance to experience and discover the real Algarve. During this culinary holiday in Portugal, you will taste local produce, enjoy traditional dishes and drinks, visit heritage sites, and take part in culinary activities.
You'll stay at GuestMar, an authentic guesthouse, located in the historic center of Olhão, a traditional fishermen town. You'll be just five minutes walking distance from the markets, the marina, and the restaurants. Or you may also choose to stay at Real Marina 5-star Hotel and Spa, which features indoor and outdoor pools with panoramic sea views.
The package includes daily breakfast, 3 lunches, olive oil tasting, a visit to the local market, a boat drive to the nearby islands, cooking classes, a food tour, a pastry workshop, visits to historical sites, and more.
Kindly book your flight to Faro Airport (FAO) as the transfer is included in the price.
Availability: select dates in February to May, July, August, October & November 2022
Airport transfer & all transport throughout the itinerary included
Experience real Scotland, learn how to cook traditional dishes and discover its vibrant history. Taking advantage of a wealth of locally produced ingredients, you'll learn how to develop a range of traditional mouthwatering and delicious Scottish feasts.
The produce available and the dishes you'll learn to cook depend on when you travel. The seasonal variations won't affect the itinerary, though. Some of the dishes you'll cook and enjoy during the stay include Braden roast (hot smoked Scottish salmon), cranachan (raspberry oatmeal, cream, oats, dessert), Cullen skink (smoked fish soup), haggis, oatcakes, and shortbread.
During this cooking vacation, you'll join a variety of half-day and full-day excursions. You'll explore the island of Mull and visit Duart Castle, visit Oban whisky distillery, forage for wild garlic, and small.
Most of the meals are included in the price, except one dinner on day 6 when you'll have half a day for yourself. You may choose to eat out at a pub or restaurant. A whisky tasting session is included in the package.
Kindly book your flight into Glasgow Airport (GLA) as the airport transfer is also included.
Availability: all year round
All meals included
If you are passionate about cooking or want to learn but have never found the time, why not consider joining this cooking school in Texas? Using fresh ingredients, mostly from the on-site herb garden and local farmers, you'll learn to create authentic dishes from cuisines around the world.
Should you happen to want to learn to cook dishes from a particular cuisine, make sure to check the 2022 schedule ahead of time. For example, in January and June the focus is on Italian Cuisine, whereas in March, you can learn all about the Mediterranean cuisine. There are plenty of other options to choose from.
You'll stay at the luxurious Texas Hill Country lodging. Each guest room & suite is individually designed giving it a unique character.
During this vacation, you'll join cooking demonstrations and get hands-on experience in the kitchen (5 cooking labs). You'll prepare breakfast, lunch, and dinner.
The package includes all main meals, water, coffee, tea, and soda.
Availability: May – July 2022
All meals included
During this cooking holiday in Costa Rica, you'll learn how to cook vegan recipes in hands-on cooking classes, visit a local organic market, and also get a chance to explore the area.
You'll be staying at the Cascadas Farallas Waterfall Villas, which features six eco-luxurious suites. All suites have glass doors to enter an open veranda.
The vegan cooking package retreat includes a luxury suite and all the meals for the five nights, with four cooking classes crafted to give you a full spectrum of vegan specialties.
Cooking classes last from 11 a.m. to 2 or 3 p.m. each day and will include a variety of dishes, including those requested by students.
In your free time, you may enjoy some amazing activities, such as a canopy zip line tour, a waterfall tour, white water rafting, bird watching, or visit a national park nearby.
The closest airport is Quepos La Managua Airport (XQP), but you may also fly into Juan Santamaría International Airport (SJO). The airport transfer is available for an additional fee.
Availability: all year round
Excursions included
Airport transfer included
Learn about the charming capital of Hanoi, incredible Halong Bay, historic Ho Chi Minh, and more. Sample the finest Vietnamese cuisine, take part in culinary lessons, and learn about the Vietnamese cuisine.
During this 10 day tour, you have a choice to stay in mid-range or luxury hotels, all rooms featuring deluxe or luxury amenities.
The package includes a chef's cooking demonstration, 2 hands-on Vietnamese cooking classes, purchasing ingredients at Dong Ba central market in Hue, a day trip to the watery world of My Tho in the Mekong Delta, a day trip in Hanoi, a Halong Bay cruise with lunch on board, an internal flight (Hanoi to Hue), all private transfers and transportation, sightseeing tickets, English-speaking guide, Vietnam visa on arrival, and more.
Make sure to book your flight to Noi Bai International Airport (HAN) as the transfer is also included in the price.
Featured photo credit: Italian Cookery Courses
---
Excited to plan your next culinary vacation but looking for an affordable option? Check out our budget culinary vacations and find the perfect one for your preferences!